Athens v. Spart Part Eleventy-One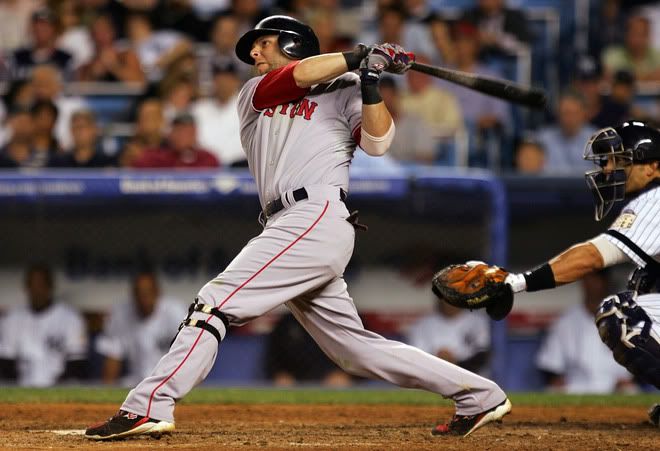 (Photo from Yahoo! Sports)
Okay so, I kind of feel like Dustin Pedroia and Jason Bay are a study in opposites. Like last night you just

know

that Pedroia was strutting through the clubhouse all "Yeah, that's right. Hit a grand slam. That's four - count 'em - four runs at once. 'Cause I'm the man. Don't need no Manny Ramirez. You got Petey." And Jason Bay was probably sitting quietly at his locker, neatly folding his uniform for the laundry people (because he's polite) and just quietly accepting congratulations on his own four RBI night with a shrug and a head nod and some business about "just trying to help the team."
I mean, I know Bay landed on the team with kind of a splash considering who the Sox gave up to get him (I guess that's how we're parsing it now), but despite the fact that he has been every bit the All-Star outfielder they anticipated, I sometimes forget he's even around. He's just so quiet and unassuming and goes about his business that I find myself thinking, "Who the hell bats fifth in the lineup? Who's that guy? Oh, right. Jason Bay." No fault to him, of course, it's just, I guess we're still used to someone a bit, erm, louder.
Not that Pedroia isn't doing his part to make up the difference in personalities. My absolute favorite thing about Dustin Pedroia is how he has the same swing as Kevin Millar but is like half the size. And he absolutely will not back down to anyone. Didn't he get thrown out of a game in Baltimore just a little while ago for arguing with either the umpire or Daniel Cabrera? Or both? Stellar. Lil' Petey is a force and will let you know it. He'd probably also kick my ass for calling him "Lil' Petey." I just like that the guy plays with a grudge. It's endlessly amusing. Plus also, he's pretty good at baseball.
So, yeah. That happened. 11-3. I will take it. Also we got another example of Adventures in Yankee Outfielding thanks to the non-gymnastic work of Xavier Nady which is always fun and good times. And...we haz a Mark Kotsay? Sure.
Perhaps the Sox will sweep it up tonight and close down this portion of the rivalry at the Stadium in style?
Odds that Pedroia's still strutting? It's gonna take Youkilis shoving him in a laundry hamper full of dirty jock straps to shut him up, isn't it?