Lovefest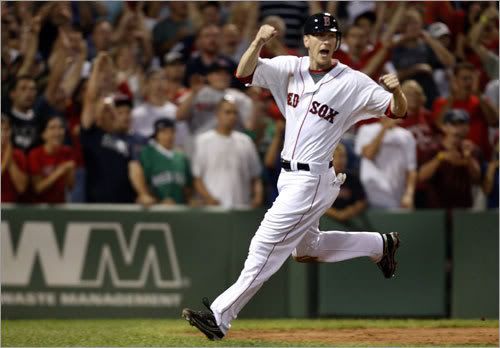 (Photo from Boston.com)



Jason Bay has an exceedingly good PR team. Or so it would seem. Perhaps it's just his apparent willingness to get important hits, play the field like he means it and say all the right things. But still, things appear to be going well for the gentleman.

Jason Bay has never fielded this many interview requests. I guarantee it.
Of course, it's early times yet, and Red Sox fans have nothing if we don't have long memories. Point being, we aren't going to forget the guy who left anytime soon, no matter how well Mr. Bay does. But I like to think we'll continue to be this welcoming to the newcomer. At the moment, it would appear that we love him and he loves us. It's a regular mutual admiration society going on here. A lovefest for days.
Especially from Tito. Tito
LOVES
Jason Bay. I caught part of his postgame press conference on Saturday and he looked as though he'd gotten a good night's sleep for the fist time in ages. Which, come to think of it, might actually be true. "I guess I didn't realize he was so fast," Tito said of Bay, "He just turns and plays that ball off the wall and gets it in so fast. I didn't realize that." Understandable considering that previously "playing the ball off the wall" often meant "disappearing into it."
So right now is the era of good feelings which is always nice following a trade of this sort. A sweep is the best possible way to begin Life After Manny, especially with the new guy contributing in such a big way. Of course, we also do revisionist history here in Boston so if the team should fall to the Royals and drop further out of contention, I expect the Manny Lovers to come out of the woodwork and demand some sort of reversal of the trade. Not gonna happen. Jason Bay is our left fielder now. Learn it. Live it. Love it.
Now, what can we do about trading Ken Macha to Kansas City? Look, I'm sure Macha's a nice guy, but he is Ambien in a suit. Yesterday, Amy and I were at the Coolidge Corner Clubhouse watching the pregame interviews from Yawkey Way and admiring the way in which Lou Merloni was sleeping with his eyes open.
Amy:
He is staring at Ken Macha and fantasizing about biting him in the neck.
Me:
"I know one hundred ways to kill you with this headset, Ken."
Amy:
Or he's playing tic-tac-toe with Kathryn Tappan.
Me:
He is just staring at the side of his head. Just
staring
. Is that his listening face?
Amy:
It's his "I will bite you and it will be so quick, no one will notice. You'll fall to the floor and Kathryn and I will continue discussing Matsuzaka's pitch count without you" face.
Me:
I think I might love Lou Merloni.



Amy:

I know you do.