Dear Wes Welker: I would have made a snow angel too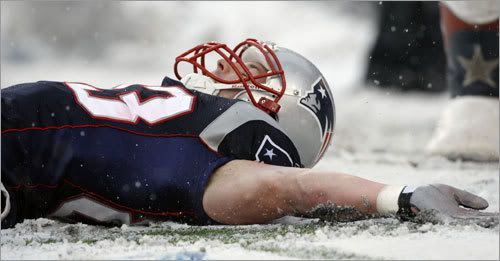 (Photo from Boston.com)


That, my friends, is a photo of Wes Welker engaging in childlike fun and seasonal shenanigans. For which he got flagged with an unsportsmanlike penalty because the officials evidently hate fun. I'm sorry, people, but snow angels are mandatory this time of year. Especially in a game like yesterday's where any drama was gone by the end of the first quarter.

Which is not to say that the Patriots played error-less football, just that the Cardinals' plane might not have left Phoenix for all the oomph and zeal and, you know, competent football playing they showed yesterday. Really, you guys? This is a playoff team? What is happening over there in the West that
this
is a playoff team? They're soft, I tell you. Soft. And if they play like that in the playoffs, I'd, um, well, I wouldn't count on a long run is what I'm saying.

That said, it was extra special nice to see Matt Cassel be the USC quarterback not only on the field but straight up dominating the play. Matt Leinart was relegated to Kurt Warner backup duty (though he did account for the sole Cardinal touchdown of the day), while Matty C went all Super Laser Triple Rocket Reverse on Arizona and put up 47 points. Granted, some of them were thanks to third-rate fantasy owners' new favorite running back, LaMont Jordan. But we cannot be picky when it comes to our point distribution.

I cannot speak for anyone else but Cassel's performance yesterday - in addition to finally solidifying his hold on the Big Boy Pants - also made me miss Tom Brady (I mean, more), because that is the kind of game Brady engineers in the snow as well. I mean, there was a picture on the front page of the Herald the other day of Tommy wearing a festive red holiday sweater and ministering to children, no doubt healing sick ones with a mere smile, but still, I want him on my football field. Healthy and dominant.

This is not to say that I don't love Matt Cassel. I do. My love is complete. But Amy and I scripted a touching story at the beginning of the season wherein Matt Cassel steps into the extremely large, Brady-vacated cleats and does his best heartwarming Disney-coming of age story rendition, leading his ailing team to the playoffs. Then, next season, Brady returns, healthy and eager, and there is a touching moment when Cassel returns his playbook or whatever (choir of heavenly children's voices swell on the soundtrack, of course), and Cassel walks off into the sunset, to bring his golden touch to some other team in need. Maybe Chicago. And then Brady shakes his head and says, "I learned a lot from that kid. He's got heart." Fade to black.

Could happen, right?