This is how we do it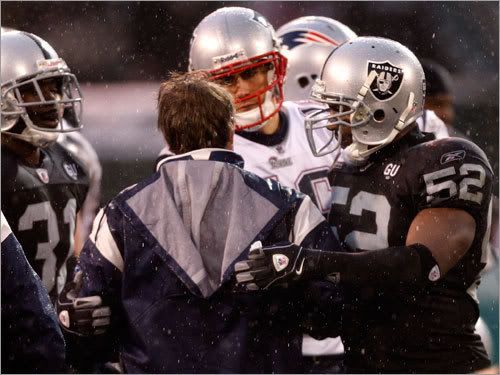 (Photo from Boston.com)



Also per Boston.com:
RB LaMont Jordan (on his performance against his former team) "I prayed to the Lord this morning to please keep me humble, and not say too many negative things about Oakland."

LaMont Jordan may be my new favorite Patriot. Though I grow increasingly fond of Matthew Cassel. Everyone knows Cassel's struggles this week and I'd be remiss if I didn't point out how unquestionably hard it must be to not only play in a game like yesterday's when your head and heart are elsewhere but to, above all else, play well. Yesterday's performance by Cassel would have been a great one under any circumstances, but given his personal atmosphere, it was especially so.

Adding to the fun and games was Oakland's very...well, Oaklandness seems the proper word for it. The bumbling and the farting around and the 29-yard punts and what have you. I can totally punt a football further than 29 yards. In fact, one time I punted one 33 yards and that was without warming up or anything. I'm just saying, I might be undervalued here.

Randy Moss surely let the Oakland faithful know who was boss. Which, I'm sure they just loved. Amy and I advised him against any sort of Lambeau Leap shenanigans so he didn't get shived. Thankfully, he obliged. Though some of the Oakland fan's er, costumes did lead Amy to make the following statement:

"The thing is, if you find yourself at a football game in the pouring rain dressed up like a member of a death metal band and waving about Patriot heads on sticks, I feel like maybe that's the point at which you question some of the choices you've made in life."

But, I mean, Oakland fans. There's no reasoning with them. Have you seen Al Davis lately? This is what I'm saying. A man that in love with velour should never be put in charge of anything. This is a rule we should all live by.

Of course, Matt Cassel and Randy Moss were not alone. Messrs. Welker, Morris and Faulk also got in on the fun. And when LaMont Jordan rumbled in for his touchdown (evidently Jordan "rumbles" while Morris "scampers"), Amy and I broke into a spontaneous eruption of Montell Jordan's seminal hit "This Is How We Do It." As you do.

There was much rejoicing around the apartment when the game went final. For the score and the outcome and the fact that the three-way division tie remains (though Buffalo really could have obliged us with a win if they were feeling helpy), but also because it was nice to see Matt Cassel perform so well on a day where he no doubt needed it. Some things remain bigger than football - which we often forget - but seeing Belichick (and several Raiders players) hug Cassel at the end of the game did drive that point home.

So good on ya, Matty. We're all proud of you.