Welcome to the Fish Bowl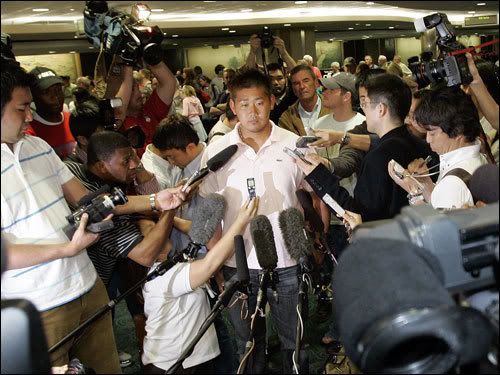 (photo from Boston.com)
Hey, look! It's a shiny, new pitcher! Yay! He is undoubtedly wondering what the HELL he's gotten himself into.
Just as Mother Nature dumps the first real snow on Boston this winter (OH MY GOD! STORM OF THE CENTURY! WE'RE ALL GONNA DIE!), pitchers and catchers are beginning to report in earnest and the official start of Spring Training is close enough to taste it.
And I'm saying "adios" to the slush and sleet for a few days and heading to Los Angeles to visit my old college roommate. Never been to L.A. before. I remain dubious, but ever-hopeful that I might run into say, David Boreanaz in his natural habitat (which is clearly
a bathtub
), or that George Clooney might need a jump on the freeway or something. No, that sounds dirty. Heh. Well...
Anyway, I trust you'll all take care of the Boston sports scene while I'm gone. For my part, I'll be holding it down as I attend the annual President's Day Party in L.A. dressed as "Red Sox Nation." Hey, you have to come as either a president or state. I think that qualifies.
Now, who wants to be in charge of the phone tree so I can be alerted to Tom Brady's whereabouts should he decide to stop by my apartment and wish me a Happy belated Valentine's Day?
Take care, kids. See you next week.