Sometimes I go a little nuts is all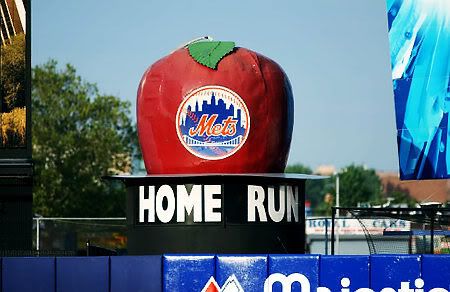 Home Sweet Home?
Historical Landmark Provides Comfort, Shelter for Mets' Forlorn
Stanley Mumphrey, the 73-year-old groundskeeper at Shea Stadium noticed something odd this past weekend as he was walking the warning track in center field checking for divots.
"I was walking along like I always do and got near the apple, see?" Mumphrey said, referring to the giant apple that rises from a top hat beyond the center field fence whenever a Mets player hits a home run, "and it looked to me like there was a light on in there."
Mumphrey called park security to investigate, thinking vandals had broken into the historical symbol.
"It wouldn't be the first time," head of park security, Randy Chalmers said.
Only this time, it wasn't vandals or teenagers pulling a prank. When Chalmers and his security team opened the trap door located at the base of the top hat, they found recently fired Mets manager Willie
Randolph
, asleep and surrounded by what appeared to be scouting reports.
Roused by Chalmers,
Randolph
was confused as to his whereabouts and appeared intoxicated. Several empty bottles of gin were found stashed inside the apple along with a Coleman camp stove and several unopened cans of tuna fish.
An agitated
Randolph
claimed he was "only staying for a little while" and "just needed a place to crash" following the recent 3am firing by Mets brass.
Mets general manager Omar Minaya could not be reached for comment.
When asked if, prior to his discovery,
Randolph
planned to stay in the apple for a lengthy period of time, he would say only, "I just figured they wouldn't find me here."
Pedro Martinez, the Mets future Hall of Fame pitcher, commented only that "it's better than living under a mango tree. I did that once. Before I was a mega-gajillionaire."
There were no reports yet on whether or not
Randolph
plans to undergo counseling for post traumatic stress disorder.
"I figured," he said, "I can still be close to the team, right?"
"This apple's pretty roomy. Maybe McLaren needs a place to crash,"
Randolph
added referring to John McLaren, the recently deposed manager of the Seattle Mariners.
When asked if other fired managers might find solace in the Stadium artifact as well - perhaps Yankees manager Joe Girardi, should he face a similar fate for helming the underperforming Yankees -
Randolph
shook his head violently. "(expletive deleted) that guy," he said.
Yankees partial owner Hank Steinbrenner could not be reached for comment.

(Apologies to Sean as the original idea of someone (namely him) taking up residence in the Shea Stadium apple was his. And this was BEFORE the drinking at the wedding.)