Long Time Coming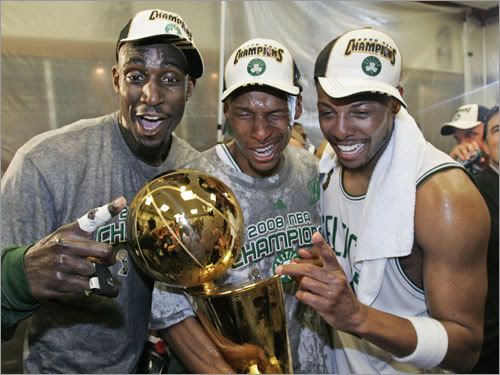 (Photo from Boston.com)
Now, I'm not what you'd consider a huge basketball fan. I pretty much stopped paying attention to the NBA when Larry Bird retired. I got wrapped up in baseball then. And we all know how that's gone. I have virtually no memory of the Celtics' past days of glory since they won their last championship when I was six. But I do appreciate any scenario in which Kobe Bryant looks like a punk. I seem to have developed a wicked crush on Kevin Garnett (I do have a history of liking the sprawly, snarky ones), and I'm taking a surprising amount of pleasure in watching Paul Pierce, who always seemed so prickly to me, find a place as a member of a great team instead of
as
the team all by himself.
Plus, I'm from New England, geographically, these are my boys.
And I do know some Celtics fans who are no doubt completely thrilled this morning. I'm thinking specifically of Kerri and Big Mike and of Rachelle's dad Lou. And of course Butchie and the Tin Knockas. (Now does that sound like a bunch of Celtics fans out of central casting or what?) So I'm totally excited for them. Watching your team win a championship - especially considering the turnaround from last year - is a great thing.
Hazel Mae just said, "There's always room for another championship in New England." And I know what people outside of our fair nation think - sometimes outspokenly - about our teams in this region. But you know what? No apologies. We love our sports. We love our teams. We love seeing them win - as would anyone enjoy seeing their teams on top. So we take it and we smile and we cherish the championships.
So good on ya, Celtics. Nice work. Nice to see you smiling, Paul. When you frown, you look like a catfish.
As for the Red Sox, they did some impressive work of their own. Since throwing his no-hitter, Jon Lester is in the business of being one-upped, it seems since his last start was overshadowed by the Fisticuffs of Fury involving Coco and the Rays and last night's start will be largely relegated to sidebar material on account of the Celtics' win. (As it should be. The Red Sox are the golden child in this town and can do with taking a backseat for a day or so). But we shouldn't ignore the fact that Lester pitched admirably. The Phillies are a division leader and with Utley, Rollins and Howard, hitting is never their problem. So holding them to zero runs is nice work indeed.
Also, when I saw the Phillies were countering with Jamie Moyer, I assumed that Manny would take him deep at least twice since historically Manny holds ownership papers to Mr. Moyer. Imagine my surprise when I checked the score to see that the RBIs came about as a result of a Coco Crisp home run and a Julio Lugo double. Not really known for their offensive prowess those two. Crazy times indeed.
Of course, now we learn that Bartolo Colon has been placed on the DL with back stiffness. Which thing I guess we can't really complain about because of the fact that we're apparently paying him in cotton candy and well wishes. And Matsuzaka is coming back so...I guess we'll be all right.
It's a day game today which I find mildly irritating since I haven't been able to watch an actual Red Sox game since the one I attended in person last Wednesday. Life, you know, sometimes gets in the way. So I'll be Gamedaying and hoping for the best.
But today belongs to the Celtics and Green 17. Fire up a cigar for Red.