Boy Wonder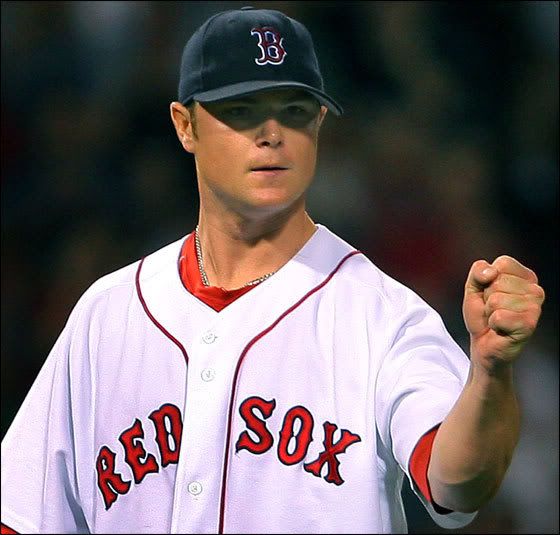 Let's get one thing clear. Well, two things, actually. I do not like J.D. Drew. I like Julio Lugo even less. But I'd rather focus on the positive this morning (I don't know, early morning gym endorphins or some damn thing. I'm sure it'll wear off soon enough), and give a cyber hug and a hearty pat on the back to Jon Lester whom
doctors have declared cancer free
. I think, in spite of all the offseason moves that may or may not happen, when pitchers and catchers report to spring training at the end of February, the sight of Jon Lester playing catch will be among the most welcome.
I try not to get too smurfy with my baseball "analysis" because, hey, you can read Bob Costas-type human interest stories anywhere, but occasionally, something sticks and I have to give voice to my feelings on the matter. Lester's situation is one such circumstance.
You may have thought that I'd been avoiding the Red Sox lately. That wasn't entirely true. But I learned a few years ago that reading every tidbit of information or rumor on the winter meetings and free agent signings will do nothing but cause me to lose sleep. So I told myself two things: 1) I wasn't going to get all bent out of shape at the possibility of something happening (or not happening). I would wait until it happened, (or didn't) to react. And 2) Theo is smarter than me. I know, I know. I can't believe I said it either. Especially considering all the hours I spend pontificating about how sometimes I think this team would be run more capably by a drunk monkey. (This may well be one of those times. We'll see.)
But today seems like the day when I would address the first thing, and yet, I don't really want to. Because Lester's news is more important. It's so trite and tiresome but when you, as a sports fan, get the news that your team has landed a shortstop and an outfielder for a boatload of money and your 22-year-old starter has beaten cancer, you realize that, at the end of the day, it's just baseball. The second thing matters. The first is just baseball. Which is not to say that tomorrow, I won't make fun of Drew's Nascar-stache and invent a Lugo Whack-O-Mole game, but today, I'm just thrilled for Lester.
As are, I'm sure, his teammates. You know what I'm looking forward to most right now? Not the impact of the new guys or watching Alex Gonzalez hit .300 and play magical defense in Cincinatti. Not Manny's newest hairstyle or Manny Delcarmen on applesauce duty. And not Tek swinging and missing at the high, fast one (again). What I'm most looking forward to are the shots of Lester in the dugout, surrounded by his teammates. I want to see him spitting seeds with Mike Timlin (who, as Marianne says, is
so proud of Lester for kicking that cancer square in the balls like he told him
). I want to see him enveloped in a giant bear hug from David Ortiz. I want to see Manny ruffling his hair and calling him "Bubble Gum Head." (It's Manny, who the hell knows why?) And I want to see Lester's fist pump again. I want to see him playing baseball.


Okay, smurf over. Return to regular snark tomorrow and theories on what would happen if someone locked
Julio Lugo
in a steel cage with Gape Kapler.