Welcome, Newbies!
Freshman Class of...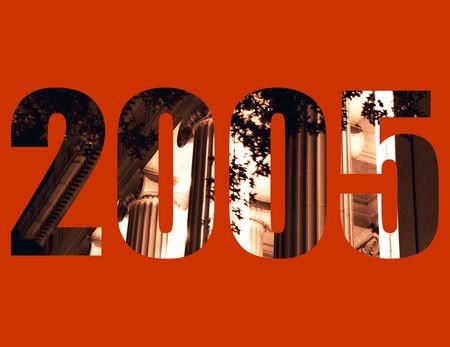 It has come to my attention that I have not paid the appropriate amount of respect to the new members of this Red Sox team. Sure I have incomprehensible tax forms spread out around me that I should most definitely be dealing with and sure I can barely raise my arms above my waist due to an especially inspired (aggressive?) bout with a shadow boxer but dammit, someone needs to talk about Matt Mantei! I give because I love, people. You will not read much about ERA, WHIP, RBIs, RISP or SABR here because I'm not a stat head and math is hard. Especially for girls. (Do I even need to tell you I'm kidding?) But that shan't stop me from yapping about the baseball. These are the guys who are either completely new or who spent very little time on the big club in seasons past. Or at least the guys who I've heard of. Because the rest of them, if they're any good, will make themselves known in due time. I mean, us McCarty and Shoppach worshippers probably know everything up to and including these guys social security numbers but the casual fan (if there is such a thing in Red Sox Nation), will probably go "Who dat?" These are the guys who'll be helping the mainstays defend the title. We ain't messin' around here. So, without further ado, the Red Sox newbies. My impressions, what I've heard and completely unsubstantiated predictions. Oh, and nicknames. Because what's a Red Sox player without a nickname?


The Newbies: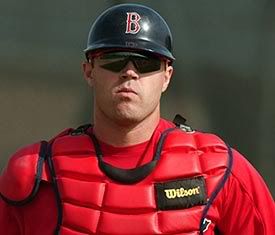 Kelly Shoppach aka "Training Wheels"
Catcher
The nickname comes from the fact that he's a good warm up for the major league catcher, Lord Thighsmore, Sole Regal Owner of the Thighs of Freedom. Shoppach is your starter set, if you will. Just in case, to paraphrase Beyonce, "you're not ready for this jelly." In addition to being a catcher so I automatically love him, Shoppach is also pretty damn good. Until the Sox re-signed Varitek (saving you all from years and years of my weeping), Shoppach was looking like the heir apparent behind home plate at Fenway. But with Varitek and Mirabelli both coming back, there's a good chance that Shoppach could be used as trade bait. He should get something good in return as he's a fairly highly touted prospect. And, if he stays, well, more catchers for me.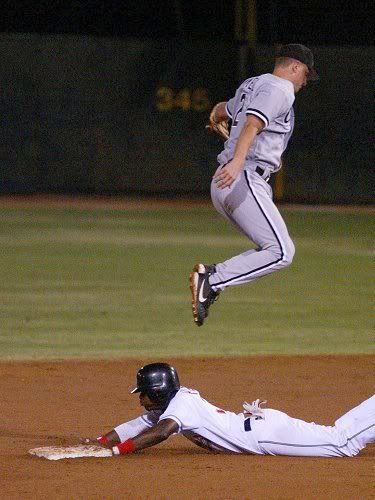 Tim Hummel aka "Figurine"
Infielder
C'mon, that nickname is way too easy. Hummel is a utility infielder who's spent time in the Cincinnati system. One hopes that like a Hummel figurine, he does not shatter upon being dropped on a concrete floor but then, I'm not sure how often that has cause to happen during major league spring training. Hummel could be a 40-man playoff call up and could be used to spell Mueller, Bellhorn, or Youks if need be. Of course, since Mueller, Bellhorn and Youks can pretty much spell each other, he may not be needed. Look for him in Pawtucket.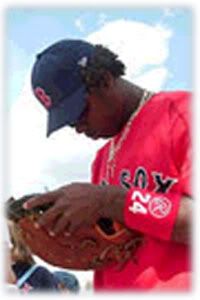 Hanley Ramirez aka "Phenom"
Shortstop
Because he's always referred to as "Red Sox phenom Hanley Ramirez," it just seemed fitting. In addition to being really, really freakin' good, and also only 21 (*sigh*) Hanley now has a spring training triple play on his resume. Cool. He's spent the majority of his time with Single A Sarasota and AA Portland but I wouldn't be a whit surprised to see him make it to Pawtucket this year. Just another Dominican Destroyer to add to the team. He may be a viable option if Renteria ever needs a breather but it's unlikely we'll see him in Boston before September.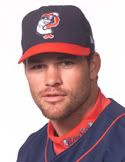 Adam Hyzdu aka "Hyyyyyzzzduuuuuu!"
Outfielder
He is, and always shall be "Hyyyyyzzzduuuuuuu!" owing to a phone call I received shortly after the World Series parade where my ex-boyfriend's brother called me and said, "I became the first person in history to scream 'Hyyyyyzzzduuuuuuuu!'" And boy has a World Series ring. How cool is that? Hyzdu looks to be playing most of the year in Pawtucket with perhaps an expanded roster call up. At which point I will scream, "Hyyyyyyzzzduuuuuuuu!" And so should you.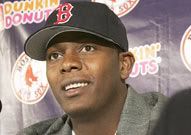 Edgar Renteria aka "Edgah" or "Rent"
Shortstop
The worthy successor to Nomah and the OC, Renteria is already very, very much a major leaguer. I'm really excited about him being on this team. Like, bounce up and down clapping, pee my pants excited. I mean, have you seen this guy field? Smooth as butter. There was a play deep, deep, deeeeeeep in the hole the other night in a spring training game and he just…got to it. The runner just beat the throw at the bag and I said, "I don't care how that play ultimately turned out, that was fucking beautiful." And I mean it. Because goddamn is he fun to watch. At present, Edgah still looks a bit worried as to what, exactly, he's gotten himself into but I suspect it won't be long before he's putting Ben Gay in Millar's jock strap and creating insanely complicated handshakes with Manny.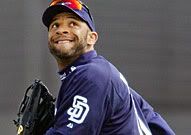 Jay Payton aka "Pay Day"
Outfielder
You know who I like? Jay Payton. You know why I like him? Me neither. He just seems like a likeable guy. Could be because one of the first pictures I saw of him in a Sox uniform, he was hanging onto the back of a golf cart, driven, no doubt recklessly by Kevin Millar, smiling broadly from ear to ear. Anyone who can look at Millar dangling the keys to a contraband golf cart, hop on for some joyriding with KFK, Manuelito and Papi and cruise around City of Palms Park while smiling like that is okay in my book. Payton is already scheduled to start opening day in right field because Francona doesn't want Trotter trying to hit the Unit on day one (that's a whole other issue which I'm sure I'll get to at some point), but he'll spend most of the season, barring an injury to either Trot, JD or Manny as a fourth outfielder, in essence taking Gabe Kapler's place. Not that anyone can ever truly replace The Hebrew Hammer or the guy Payton got traded for, Dave "Wheels" Roberts but we're willing to welcome him with open arms.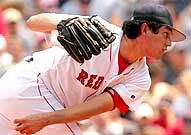 Abe Alvarez aka "Crook"
Pitcher
That'd be for the crooked way he wears his hat, which, as previously established, is more a medical necessity than a style thing. Nevertheless, he's still pretty stylin'. Remember that double header against Baltimore last year where Alvarez started the day game and there were shots of the dugout with nearly every Sox player on the bench – wartime Schilling included – wearing their hats askew? That's what I think of when I think of Alvarez. I'm thinking he'll spend his time split between Portland and Pawtucket but depending on how he performs during the season, he might be a valuable big league bullpener down the stretch run. And yes, I totally just made up the word "bullpener."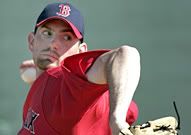 Matt Clement aka "Matty"
Pitcher
The girls over at the Surviving Grady Message Board have bestowed Matty upon this one because he just looks the part. He's not "Matt" because he doesn't look hip enough and he's not "Matthew" because he's not tough enough looking. Therefore, "Matty" seems to fit. Like a puppy. A puppy that you want to do really well. A puppy that may occasionally be infuriating because of his penchant for peeing in the corner when you have company over but that will ultimately prove to be an excellent pet and will retrieve the Frisbee more often than not. Wait, are we still talking about pitching?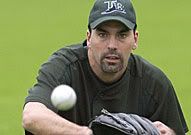 John Halama "Halama Llama Ding Dong"
Pitcher
If you are Sam, you should look away, because this man's frightening eyebrows will lead you to believe that he eats babies. Everyone else, carry on. Halama comes from Tampa Bay (and Seattle, and Houston). He looks to be a valuable bullpener alongside Alan "Creepy Chipmunk" Embree, Mike "Sarge/Big Fitty" Timlin and Mantei and perhaps a spot starter if need be. He's done both in the past and seems willing to do both again. "Whatever helps the team win." Aww, thanks new guy, we like you already. Unless you're Sam. Or Emma, who will forever make me think, "Cuidado, Halama!" Thanks, Emma.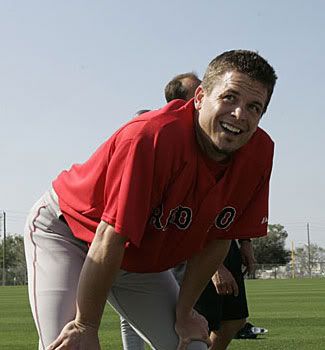 Matt Mantei aka "Helllllooooo, Matt!"
Pitcher
He's either "Hellllllooooo, Matt!" or "MattMantei," all one word, rapid fire owing to his excessive hotness. I think he looks like a lost Wahlberg brother or, as Mer said, "It's like if Mark Whalberg had sex with a sharpei/bulldog mutt, Matt Mantei would be the love child. Strangely, I mean that in a good way. Mantei is hottt." Aesthetic merits aside, he's also capable of being a pretty good pitcher if he's healthy. That's a big "if" of course but he seems determined to do what he can. Mantei is already familiar with Schilling and Kim from his days in Arizona (he won a World Series with both of them on his team) so that should ease the transition. And hey, he's already professed his dislike of the Yankees. With that and the fact that his mere presence raises the hotness quotient of our bullpen, what's not to like? I believe Matt Mantei is my new Bullpen Boyfriend.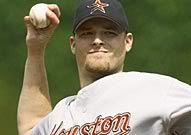 Wade Miller aka "Riptide"
Pitcher
It's an oceanography thing. Wade/Riptide, get it? Hey, I didn't say these were clever nicknames. Miller is hurt right now and looks to start the season on the DL. Nevertheless, he came pretty cheap from the Astros and if he rehabs well, he could be a good sixth starter to have down the line. Especially considering that three of our five starters (Schilling, Wells and Wakefield) are nearing or past forty, Miller could be a relatively young arm to throw into the mix come fall. He could also be useful if someone gets hurt. Which totally won't happen because frankly, we had enough of that shit last year. But yeah, Wade Miller. Riptide. Awesome.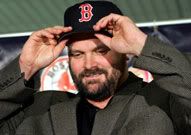 David Wells aka "Fat Boy"

Pitcher

Oh, David Wells. I've already written extensively about David Wells here and here, and frankly, I'm still a little leery of him. It's going to take a few good, solid starts to rid the mental image of his fat ass in pinstripes from my gray matter but I am willing to be swayed. Dude just needs to prove himself. I have no doubt that he can pitch, hell, he's been doing it for long enough, but I want no Yankee sympathizers on my team. In fact, I believe that all converts should be forced to take a shock therapy test where they have to answer questions like "I hate A-Rod, yes or no?" and "Fenway Park is beautiful, yes or no? Wells certainly seems to have the personality to fit in with Boston's idiots, I just hope he can deliver. But with the Big Schill perhaps sidelined for Opening Day (and can we stop freaking out about this, people? It's not the only game we need to win all year.), Wells looks to be the starter. Bring it.




So there you have it. I know there are other guys kicking around down there in Fort Myers but in all honestly, I don't know much about any of them. Certainly not enough to write an entire paragraph and making that much up will really tax my multiple degrees in bullshit. I certainly hope the above cured anyone of the notion that I have the slightest idea what I'm talking about. I'm really only qualified to deem Matt Mantei hott (with two "t"s) and John Halama frightening. Beyond that, you have stats and stat websites and stat heads and zillions of people who want to talk numbers with you. Here, there are words. And the bizarre knowledge that Simon Pond spent some time with Toronto last year. Now, if anyone cares to tell me what tidbit of valuable information that useless trivia pushed out of my head, I'd be happy to listen.