A Season...A Soundtrack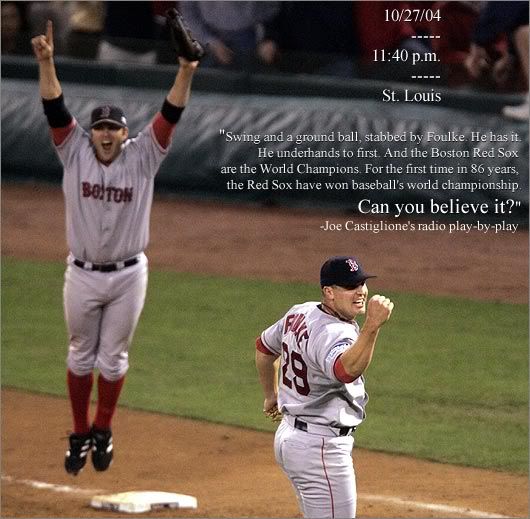 (that sweet, sweet sound)





We have a mere four hours until the World Champion Boston Red Sox take the field (albeit in Spring Training) to begin defense of their title. Baseball happens tonight! Shiny, new, wonderful, excellent baseball! But before that happens, one last look back.

Last year my brother made me a CD for my birthday. As my birthday falls on November 4th (got that, all of you? Write it down.), the Red Sox, in case you have not heard, had just won a World Series. He spent the week or so between October 27th and November 4th perfecting the "BoSox World Series Champs Mix" or subtitled "Holy Crap, is this real life?"

Herewith, the songs, applicable lyrics and visual representations of what they remind me of:


Lose Yourself – Eminem

Look, if you had one shot, or one opportunity
To seize everything you ever wanted-One moment
Would you capture it or just let it slip?

This song will, I think, forever make me think of Pedro Martinez. NESN ran a promo before Game 3 of the World Series with those words voiced over shots of Pedro striking out a gazillion batters and doing his Pedro stare 'em down thing into the camera. At the beginning of the spot, white words appeared on a black screen reading, "One moment can define a career." Then there was Pedro, quite simply being Pedro to the tune of the song. Then, black screen and the words "tonight is that moment." Chills, people, that gave me chills. Made me want to go out and tear someone's head off my own damn self. That, and the song is essentially about redemption. And Pedro, after losing Game 2 of the ALCS and all his late-season issues with the Yankees was also about redemption in the World Series. Because, and unfortunately, I think a lot of people will forget this in years to come, but Pedro was bad-ass. Pedro was nails. Pedro was really, really freakin' good. Pedro didn't take no shit from nobody. And when Game 3 of the World Series was over he had redeemed himself. What a perfect way to put an exclamation point on his career in Boston. I'll remember this.



The Boys of Summer – Don Henley (or alternately, The Ataris)

I never will forget those nights
I wonder if it was a dream
Remember how you made me crazy?
Remember how I made you scream
Now I don't understand what happened to our love
But babe, I'm gonna get you back
I'm gonna show you what I'm made of

Most people think of summer (duh) and happy good sunshine baseball times when they hear this song. I think of September and October. Probably because of the verse above. In addition to the song being wistful and hoping for the return of summer and its boys, it deals with a great amount of frustration. And that's sure as hell a familiar feeling to someone who lived and died by the 2004 Red Sox. "Remember how you made me scream?" For three months when you played .500 baseball? That screaming? Yes, yes, I remember that. "But, babe, I'm gonna get you back. I'm gonna show you what I'm made of." Didn't they though?




Further On Up the Road – Bruce Springsteen

Got on my dead man's suit and my smilin' skull ring
My lucky graveyard boots and song to sing
I got a song to sing, keep me out of the cold
And I'll meet you further on up the road.

You can't tell me being down 0-3 to the Yankees isn't the sports equivalent of wearing a "dead man's suit." NESN used this one in a promo once as well, which struck me as bizarre considering that, at the time, the Sox hadn't yet made the playoffs and the song seemed already to be coaching them to fight back. I found it odd but perhaps it was just especially prophetic.




Kryptonite – 3 Doors Down

You called me strong, you called me weak
But your secrets I will keep
You took for granted all the times I
Never let you down

I read on ESPN.com that his was Jason Varitek's at-bat music. Since I love all things Tek, and my brother, who knows enough not to attempt conversation with me when I'm in my "Varitek Zone" knew enough to include it on the CD. But it's the above lyrics that really get me. I kind of feel like this team knew that they were pissing us off for a good portion of the season. They knew that people were calling them frauds and overpaid pretenders. But they just kept playing. And when it all worked out, they just smiled at us and never reminded us that there were times when we doubted them. And we still call them Supermen.


Dream On – Aerosmith

I know what nobody knows
Where it comes and where it goes
I know it's everybody's sin
You got to lose to know how to win

Aerosmith is from Boston. Steven Tyler sang the National Anthem before Game 1 of the World Series at Fenway. There's some Boston blooded history there. But the last line, "You got to lose to know how to win," well, that's really more about the fans, isn't it? Makes me think of all those people who said that after we won one (if it ever happened, they said), we'd just be another set of baseball fans with no fire and no passion. Hmmm, don't think so. But I'll tell you one thing, the waiting did make it that much sweeter.


Centerfield – John Fogarty

Well, beat the drum and hold the phone - the sun came out today!
We're born again, there's new grass on the field.
A-roundin' third, and headed for home, it's a brown-eyed handsome man;
Anyone can understand the way I feel.

Now that song makes me think of spring. When I was little, one of my favorite poems was "Casey at the Bat" and I used to love that Fogarty references it in this song. My dad always sings along to this song when it's on the radio and for some reason, it only seems to be on the radio in the springtime. I wonder if it'll always make me think of Johnny Damon. Must be the "brown-eyed handsome man" bit. I know it'll always make Amy think of Johnny Damon, but then, what doesn't? Plus, it's just so baseball-centric. There's no mistaking what this is about. Baseball, pure and simple. Go you, John Fogarty!




Don't Stop Believing – Journey

Some will win, some will lose
Some were born to sing the blues
Oh, the movie never ends
It goes on and on and on and on

I'm almost ashamed to admit that when my brother mentioned that he might be making me a Red Sox themed CD I demand that this be on it. Almost. I mean, it's Journey. But then I remembered, in addition to the chorus ("Don't. Stop. Beleeeeevin'!") set to a quintessentially mid-nineties synthesizer, there was also the above verse. This song also drives me crazy because it takes so damn long to get to the chorus. Which, come to think of it, sort of sounds like a baseball team I know. Also, "Believe," we've all seen the bumper stickers.


Superstition – Stevie Wonder

When you believe in things that you don't understand,
Then you suffer,
Superstition ain't the way, yeh, yeh.

First, there was Nomar and his OCD batting routine. Then there was O-Cab and his handshakes. Then Papi, Manny and Pedro and their finger points. The team, and certainly the fans were full of superstitions. Don't step on the white line (them), don't let your hat touch the ground (me), take the same number of steps in from the mound (them), drink nothing but Sam Adams Octoberfest (me), don't clean your hat or batting helmet (them), don't get up from your stool (me), and so on. We're Red Sox fans. We're a star-crossed bunch. Sorry, were a star-crossed bunch.


Sweet Caroline – Neil Diamond

Good times never seemed so good
I've been inclined
To believe they never would

That pretty much goes without saying, doesn't it? Aside from the fact that it's played during every seventh inning stretch at Fenway for reasons unknown to man or beast (seriously, does anyone know why?) and it intrinsically makes you think of the Red Sox, there's that explicitly true line "Good times never seemed so good." Amen.




Keeping the Faith – Billy Joel

Still I would not be here now
If I never had the hunger
And I'm not ashamed to say
The wild boys were my friends

"Wild boys" indeed. Aside from the obvious implications of the song title, this one makes me think of, what was, at least visually, the team's defining characteristic: the hair. There's another line: "Combed my hair in a pompadour/Like the rest of the Romeos wore/A permanent wave" which pretty much sums it up as well. The tonsorial choices (or transgressions) of Manny, JD, Millar, Bellhorn, Dougie, Pokey, Buelly, Bro-yo and the rest of 'em are certain to go down in history as the stuff of Red Sox lore. Hey, whatever works, right?




Tessie – Dropkick Murphys

The Rooters showed up at the Grounds one day
They found their seats had all been sold
McGreevy led the charge into the park
Stormed the gates and put the game on hold
The Rooters gave the other team a dreadful fright
Boston's tenth man could not be wrong
Up from Third Base to Huntington
They sang another victory song

You know the story by now. The Dropkick Murphys, apparently the Red Sox go-to band, rerecorded a Royal Rooters song from way back in the day. Legend has it that it used to work then. Evidently, it worked this time as well. I will admit that after the bazillionth forced listen of this song, it bugs a bit, but I especially like the part about "Boston's tenth man." Yup, that's us. Sox fans. If we can't play the damn game we'll sure as hell let you know how you should be doing it. Gotta love us.

You stand in the front just a shakin' your ass
I'll take you backstage, you can drink from my glass
I talk about something you can sure understand
'cause a month on the road an' I'll be eating from your hand

Probably because it's Aerosmith again and I've always thought that the opening strains to this song would be so kick ass for a closer's entrance from the bullpen. But I suppose that Danzig's "Mother" also works for Foulkie. So I guess this song reminds me of something that never really happened. But, like U2's "Where the Streets Have No Name" where the music just builds and builds until it crescendos into a wall of sound, this song makes me think of playing all out, balls to the wall, no fear baseball. Excellent.




Glory Days – Bruce Springsteen

Now I think I'm going down to the well tonight
And I'm going to drink till I get my fill
And I hope when I get old I don't sit around thinking about it
But I probably will
Yeah, just sitting back trying to recapture
A little of the glory of, well time slips away
And leaves you with nothing mister but
Boring stories of glory days

Ignoring for a second the fact that I've never heard the term "speedball" in actual baseball vernacular, this song has a baseball feel to it right off the bat (oh, god, that was an unintentional horrible pun). That said, it makes me think of all the old men who used to sit around the bars and talk about all the times the Red Sox couldn't get it done. Now, it'll be me, perched on a bar stool and nursing a Sam Adams and telling anyone who will listen, "We had this guy, hit the farthest shots I've ever seen. Called him 'Papi.' Smiled like a cat."


Dirty Water – The Standells

Well I love that dirty water
Oh, Boston, you're my home

Most famous Red Sox related song ever. And it makes me think of one thing only: winning at Fenway. Walk offs or pitching out of a jam or leavin' 'em loaded or turning a DP or coming through in the clutch. Anyway you do it, the song is always the same. Can't think of anything sweeter than that.




We Are The Champions – Queen

We are the champions - my friends
And we'll keep on fighting - till the end -
We are the champions -
We are the champions
No time for losers
'Cause we are the champions - of the world

Well that one's pretty self-explanatory isn't it?


Okay, kids. That's last season in a musical nutshell to me. I've been listening to that CD pretty much non-stop since the parade down Boylston. But I'm going to need something new for this coming season which starts in, eep! less than four hours. Suggestions?