The Joy of (Paw) Sox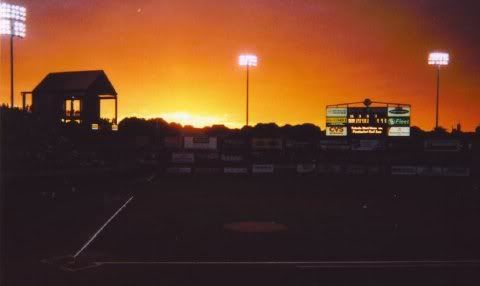 (beauty comes in all sizes)
"Hey, if we go to the PawSox game on April 17
th
, we can see the World Series Trophy." – Amy
Log on. Click. Purchase tickets. Before you could say, "enabler," I had, in my possession a printed confirmation from the Pawtucket Red Sox ensuring me two reserved seats along the first base side at McCoy Stadium for a mere $9 each. Nine dollars. American. Even better? The beer at McCoy Stadium is cheap. As are the French fries. Oh, yeah, and did I mention the World Series trophy will be there?
41.73 miles. That is the exact distance from Gate A of Fenway Park to the steps of McCoy Stadium in Pawtucket, RI, home of the Pawtucket Red Sox. That's not very far. Less than an hour if traffic is negotiable.
That is also why, after a number of frustrating attempts at Boston Red Sox tickets that yielded nothing but obstructed view, standing room, or the dreaded "Virtual Waiting Room of Death," not to mention untold damage to my credit rating, I have decided that maybe it's better for everyone concerned if I start attending PawSox games regularly. I mean, it's still baseball. Pro baseball, even. And I get to see all the up and comers, not to mention any big leaguers that might be rehabbing (though I'm sure that won't be necessary because everyone will have a healthy and wonderful season and there will be no need for rehab stints. I'm talking to you, Trot's quad, Billy's knee and Manny's hammies.)
And, until he gets traded or demoted or called up or whatever the hell Theo decides to do with him, Pawtucket is also home to my new baseball boyfriend in training, a one Mr. Kelly Shoppach. What can I say? I likes me the catchers. Bet you didn't know that Tom Brady was drafted as a catcher by the Expos now did you? This useless fact brought to you by Kristen's trivia obsessed brain.
So Paw Sox it is. And a World Series Trophy viewing to boot. I assume without Dave Roberts attached. (Also, buy that book). Hey, there will be cheap beer, good French fries and baseball. Can't ask for anything better than that. Go PawSox!