What Might Have Been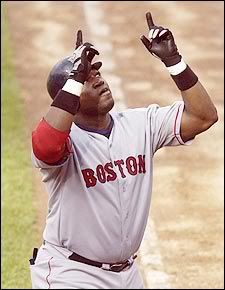 (I love it when you call me Big Papi)
Hoo's
already posted on
this
but it was sent to me via a coworker (thanks, Bridget) and it had me giggling madly and wiping tears from my eyes.
Title of the thread on NYYFans.com: "
Should the Yankees Take a Look at David Ortiz?
"
Salient (heh) points:
"i think the yankees have enough 1st baseman/dh types..." - KLJ
"Yeah, with the signing of Zeile there's really no role for Ortiz." - Mr. Mxylsplk
And perhaps most deliciously: "he's a fat and he can't run or field. we have enough DHs. and most importantly, he's very injury prone, which isn't a good sign for someone his age. all the guy does is hit home runs. besides that, he's worthless." - Trojan Pony
To all of them I say, "NEENER, NEENER!"
Has the season started yet?