Say What?
ESPN.com's
Page 3
gives us the favorite sports movie quotes from a few members of the Red Sox.


Bronson Arroyo, Red Sox RHP: "I was going to say a line from 'Scarface,' but a sports movie, I'd have to say, 'If you build it, they will come' from Kevin Costner's 'Field of Dreams.' It's one of the few sports movies that I've watched. Just seeing the old-timers come out of the crops like that was kind of eerie and kind of cool."

Kevin Millar, Red Sox 1B: "From 'Bull Durham': 'Sometimes you win, sometimes you lose, and sometimes it rains.' That's my favorite movie of all time. It's the closest thing to baseball, but it made sense because that line is about the struggling times of when you're grinding out a season."

And finally...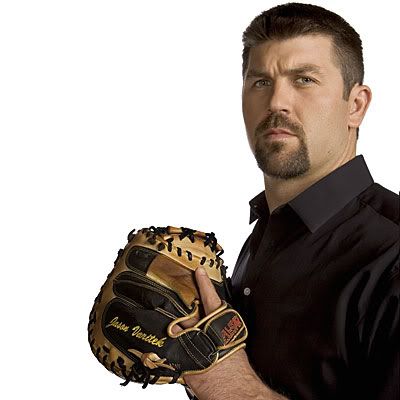 Jason Varitek, Red Sox catcher and captain
: From "Bull Durham," Jason recited the following monologue from memory. "I believe in the soul. The [expletive]. The [expletive]. The small of a woman's back. The hanging curveball. High fiber. Good scotch. That the novels of Susan Sontag are self-indulgent, overrated crap. I believe Lee Harvey Oswald acted alone. I believe there ought to be a constitutional amendment outlawing AstroTurf and the designated hitter ... uh oh ... [the only time Varitek faltered] I believe in uh ... I believe in opening your presents Christmas morning rather than Christmas eve. I believe in long, slow, deep, soft, wet kisses that last three days."
If you'll excuse me for a moment, I have to go lie down.
*dies*