No more pleated pants!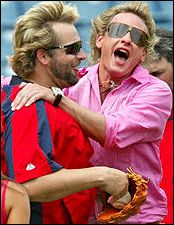 (Help them, Carson, you're our only hope!)
You've heard all about it by now. I've even gushed about it myself on this here blog. But the date is now official. The Boston Red Sox will appear on Bravo's "Queer Eye for the Straight Guy" on June 7th at Mark your calendars, kids, it promises to be a good time.
Mer has a fantastic post inspired by this very thing up on her blog today. But she goes deeper and I think it's extremely important that, outside of entertainment value, we all realize just how proud we should be of our boys for doing this. Yes, it's fun and silly and there will hopefully be many laughs, partially naked Sox man-candy and a significant decline in the number of pairs of pleated pants worn, (I'm talking to you, Captain 'Tek), but on another level, it's about more than that. The Red Sox, traditionally one of the most homogenous ball clubs owing to their stubbornness regarding integration and their history of racism, hardly seem like the type to preach tolerance. And they're not preaching. But they are doing a good thing. I, for one, am proud of them. Read Mer's post. She says it far more eloquently than I could.
Oh, and enjoy the pics, stolen from the Boston Herald. Entire gallery here.