And then there were two.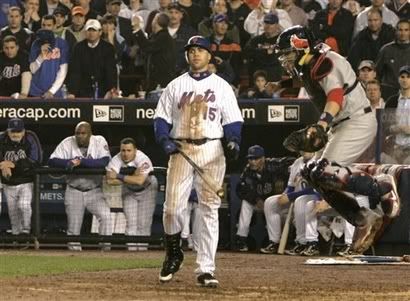 (photo from Yahoo! Sports)
Dear Carlos,
Why aren't you swinging?
Sincerely,
Everyone
I mean honestly, if you're going down, at least go down fighting. Bases loaded? Two outs? Bottom of the ninth? Winning run on? Pretty sure even Mark "Cheetos" Bellhorn would have taken a hack at that pitch. 'Course, it might've been three yards outside the strike zone but still, he likely would have tried. You just can't watch that stuff go by.
Amy, who was busy counseling her Mets fan friend, Christopher through the drama, was relaying his psychosis. Which, naturally, I understood. As Lo Duca drew his walk to load the bases I told her, "Please tell Christopher that it is times like this where I wish we could timeshare David Ortiz. And that must mean that I think he's a lovely fellow because the gift of Papi is not a small one."
"Man," Christopher replied (via Amy), "If we had Papi, I would have just turned off the TV and started celebrating as soon as Lo Duca drew his walk." So, see? Red Sox fans and Mets fans, bonding in their time of need over the unbelievable badassery and clutchness of David Ortiz. Willing to bet people do not have that conversation about Derek Jeter. Hmph.
Also, I know St. Louis is in the Midwest and all and therefore, there's a sort of polite, nothing too crazy nature about these ballplayers and their fans but I gotta say, what a lame celebration.
La Russa looks positively amped.
I mean, I know they were in New York but if you're not gonna do it up, what's the point? I guess maybe I'm spoiled as, short of a World Series celebration by the Cubs and their fans, I can't really imagine anything coming close to the intensity and bugshit insanity of the 2004 ALCS and World Series celebrations. I distinctly remember thinking that last year's White Sox celebration was rather ho hum as well. Sure, you've always got one or two guys jumping around like lunatics (Bobby Jenks last year, Jeff Weaver this year), but when the Red Sox did it, normally stoic guys like Jason Varitek were getting hammered on Bud Light and rapping along to Eminem. To say nothing of what Kevin Millar was doing. It was cathartic. But I'm biased. I guess it's always better when the insanity is yours. Although I refuse to believe that Jose Reyes and Pedro wouldn't have been HIGHLY entertaining for everyone watching. Ah, what could have been.
Plus, after Endy Chavez's freakin' AMAZING catch to rob the home run earlier in the game, I felt confident going forward that he would be hitting the game winner, thus completing the "unlikely hero" story. Alas, it was not to be. I hate it when the cosmos don't listen to me.
And is it just me or does Yadier Molina look like a
pretty, pretty lady
? Just me then? Okay. Moving on.
I also heard tell that Jeff Suppan won the NLCS MVP. Heh, I'm sure it was for his baserunning prowess.
So I'm going Tigers all the way. They're just more fun. And these Cardinals are nowhere near as good as their 2004 counterparts who got steamrolled by the Red Sox so somehow, it just doesn't seem right. Besides, I haven't seen anyone on the Cardinals break out a Head Sock yet and you know Polanco is just dying to bust his out again. World Series starts Saturday.