Pretty Tied Up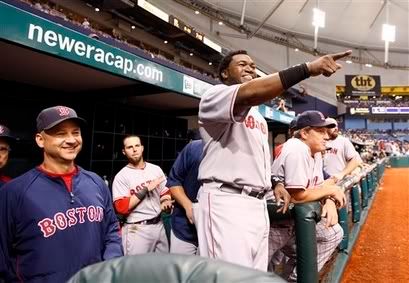 (Photo from Yahoo! Sports)
David Ortiz points to the divisional standings.
Look at the look on Tito's face in that picture. It's adorable. Part proud papa, part smirk. I love it. Perhaps he's just glad that he can stop hearing my grandmother shit talk him about the Rays and their relative standing in the division. I'm guessing she does that to him too. She probably sent him the same email she sent me last week saying, "The Red Sox should learn to play more like the Rays. Love, Ma." I would imagine my grandmother would not hesitate to harass Tito about the team's performance. But on last night, she'd probably not have much to say.
Evidently it was Home Run Derby night at the Trop. I got home late because I had an important engagement (read: drinking), and had seen that the score was 4-0 Sox in the fourth. I figured we'd put something together against Kazmir and that might be enough to stake us to the lead for the remainder. Imagine my surprise when I turned on the TV and saw that the Sox were up 12-1 in the 6th. Highlights tell me the Rays were handing out home runs like so much delicious candy. Even 'Tek hit one.
This is a good thing. This is good news. Various people who Know Things About Baseball have been claiming all season that the Rays would eventually fade away, scared off, I guess, by the bright lights of a pennant chase. I wasn't quite so quick to dismiss them because, as they say, any given Sunday. No, wait, they say that about football, don't they? Okay, maybe they're using black magic in Tampa or some wondrous witch-type potion made from the algae growing on the manta ray tank in the outfield. I really don't know. Whatever it is, the Sox are caught up now with a handful of games to play so it's almost like we're starting from scratch. Except that Mike Lowell has a torn hip labrum. But he's gonna play through it because Mike Lowell? Does not let a little thing like a torn hip labrum stop him. And also, probably he knows that we're not really prepared to handle another major sports-related injury around these parts. Mike Lowell is sensitive to our fragile psyches. Mike Lowell cares.
Tonight, Josh Beckett, hopefully inspired to reclaim his ace status, faces off against Andy Sonnanstine, whom I always confuse with Kirk Saarloos because of how their last names would ably befit a couple Lord of the Rings villains. I'm all about the scientific analysis, don't you know?