The best offense is a good insanity plea.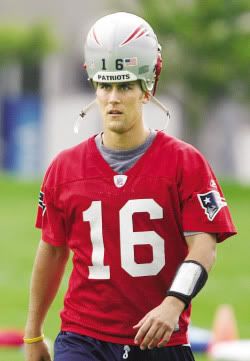 Consider yourselves warned, you might be called as character witnesses.
Amy:
THE LEGEND OF MATT CASSEL GROWS!
Yesterday, the Patriots brought veteran free agents Chris Simms and Tim Rattay to Foxborough for a visit and, presumably, to work out. But in a curious twist
reported by the NFL Network's Adam Schefter
on his blog, when Simms and Rattay arrived at Gillette Stadium, they were told "the situation had changed and they were no longer needed," and they departed without working out.
Me:
Okay, that message was totally delivered to them by Richard Seymour and Vince Wilfork wearing dark suits and sunglasses and those Secret Service ear piece thingies.
Amy:
YES.
Me:
Randy is gonna fit Matt Cassel for some bling. Just you wait.
Amy:
Oh I will. With baited breath.
Me:
At some point this season, Cassel is going to pull his helmet off only to get it stuck on his ear bling. They're going to have to call a time out and a jeweler to get his head extricated.
Amy:
Please. They'll just use butter.
Me:
...
Amy:
I am overcome with the visual of Belichick buttering his QB's head.
Me:
He'd totally roll his eyes and call for the butter which they keep for just these kind of emergencies because of course they've planned for this kind of thing.
Amy:
Belichick's emergency butter is going to get us through this season.
Me:
Amy, I have to tell you, I think Billiam is up to something.
Amy:
What kind of something?
Me:
I don't know. Maybe robots. OR DRAGONS.
Amy:
FIRST DRAGON QB AWESOME.
Me:
I'm pretty sure that's within the rules.
Amy:
Absolutely. As long as he stays in the pocket.
Me:
IT IS ONLY A MATTER OF TIME.
Amy:
LIKE 10 MINUTES PROBABLY.
Me:
PROBABLY THEY WILL BREAK INTO THE BASEBALL GAME WITH BREAKING NEWS.
Amy:
That is what is going to happen, just you watch.
Me:
You're right, we should have seen this coming. Dragons. Obviously.
Amy:
That's hardly even thinking outside the box.
Me:
Not when it comes to Billiam, no.
Amy:

I can't believe they let them use guns after Sunday:
Matt Light
and several of his Pats teammates made a big bang yesterday at the beefy lineman's celebrity shoot-out, an annual fund-raiser for the Light Foundation. The event, ably emceed by comedian
Lenny Clarke
, was held at Addieville Farm in Mapleville, R.I., and featured some fine barbecue from Capital Grille and plenty of live music. Teammates pulling the trigger included
Russ Hochstein
,
Dan Koppen
,
Logan Mankins
,
Larry Izzo
,
Sammy Morris
,
Stephen Neal
,
Lonie Paxton
,
Ty Warren
,
Nick Kaczur
,
Pierre Woods
, and
Stephen Gostkowski
, among others.

Me:
That seems particularly unwise. The good thing about dragons though is they are impenetrable to fire arms.
Amy:
Obviously. Billiam would have known that.
So, obviously, we're dealing with this in a completely rational and well thought out manner.
Also, Jonathan? That is absolutely not what we discussed. We're gonna have to have a talk, me and you, huh? Maybe
less Dirty Dancing,
more not giving up home runs?