Bad Men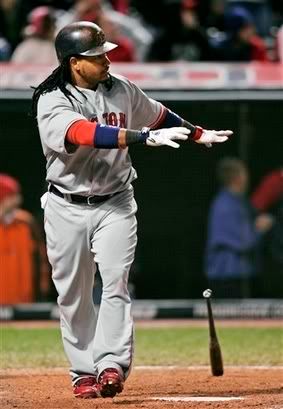 (Photo from Yahoo! Sports)
Okay, so what happened was that after Jon Lester's struggles, Tito decided to go to Julian Tavarez with the bases loaded and one out and Amy and I just started giggling like mad people because, really, what else can you do in that situation? It's April. You can't wail and moan. You can't gnash your teeth. You can't call for Delcarmen or Timlin, surely. So you see Tavarez coming in with the bases loaded and you just start laughing. And what does he do? HE REWARDS YOUR LEVITY. Julian "Batshit" Tavarez sacked up and struck out both batters he faced in that inning to stop the bleeding and keep the Sox in the game. Extra rations of raw elk meat and the blood of grizzly bears for you, I think, Mr. Tavarez.
And Kevin Youkilis...okay, you know what Youks reminds me of when he gets "hit" by a pitch and flails and moans and just generally acts his ass off? There's this episode of Family Guy, right? And Peter Griffin trips and falls down and lays there on the sidewalk just kind of sucking air through his teeth for about five minutes. It's one of those things that's funny, then goes on long enough to be unfunny, then is still going on and becomes funny again by virtue of being ridiculous. And that's Kevin Youkilis' HBPs for you. (Reader Pamela is a blessed soul who found the clip for me. Admiration and affection are hers.) But it's like, Youks is ridiculous. Even Remy acknowledges that. "Looks like that pitch missed a whole lot of nothing," he said. Basically, Youkilis deserves an Oscar what with the hand-wringing and the grimacing and such.
But really, last night's win was a total team effort. Even Julio Lugo (I know!) got in on the fun. Or rather, Julio Lugo and his seven turtlenecks. "Looks like it's got a thick nap to it," Amy observed. The Indians "prevent" defense backfired and when Lugo led off the ninth with a double, I had a feeling things might break our way. Then a Crisp ground-out and a Pedroia sac fly and suddenly we're tied at 4. Then Papi gets on, which thing has not been happening lately because of some sort of voodoo or what have you that Mike Lowell and Co. attempted to banish with a pre-game exorcism and BAM! Manny Ramirez: Bad man. You could almost feel it coming. That ball might not yet have landed. It's just...Manny, you guys. Manny Ramirez. He is going to be RIDICULOUS this season. Dennis Eckersley was REALLY excited about him a few days ago and as Manny continues on his quest to 500 home runs (current tally: 493), things are just getting more and more fun.
And then, you know, Papelbon happened. 'Nuff said.
Greta is in New York for work and was watching the Toronto/Baltimore game at a bar with a bunch of Orioles fans. They called me a couple times because we're all friends and such. And after the game, Zachary called to "congratulate" me on taking sole possession of second place. "And you," I said, "should be congratulated on having the wherewithal to sign Kevin Millar."
"Second place!" Amy said, "we're movin' on up!"
"To the East high! We finally got a piece of the pie-ie," I added.
"I love pie-ies!" she said.
"Yeah, we need to sleep now," I said.
"Yup."
Tonight, the Sox send Wakefield to the hill to face Paul Byrd for a potential sweep of this mini-series in Cleveland. I will not be watching because I will be ensconced in the balcony of the FleetGardenArena doing the "Bruins, the Bruins what?" dance like those kids in the NESN HD commercial below (seriously, I love that commercial so much) and annoying the shit out of any trespassing Canadiens fans all night. Go Bs!