Comeback, er Kid?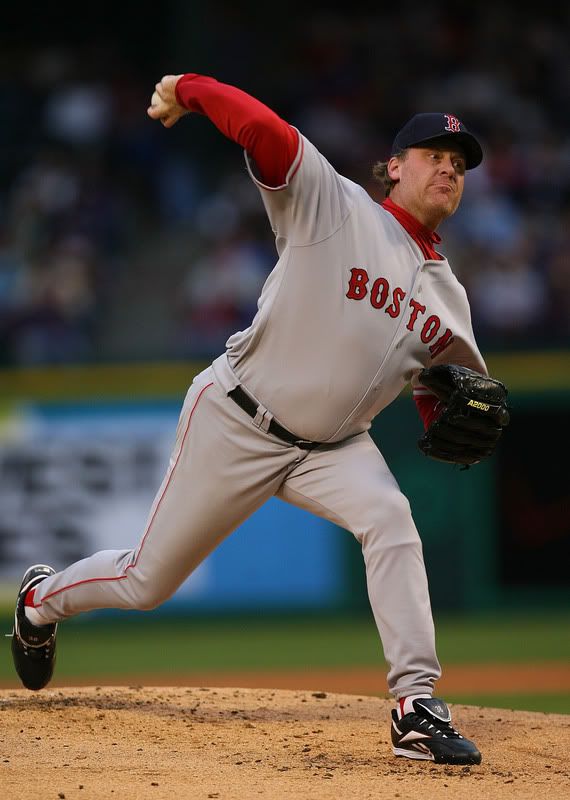 (Photo from Yahoo! Sports)
Jon Miller speaking to Terry Francona, in-game: "So how many innings do you expect to get out of Schilling tonight?"
Tito: "Oh, about twelve or thirteen."
Heh. But that's the thing about Schilling, whatever we may say about him and his personality and however much we wish he'd keep his blustering and political opinions to himself, we admire his tenacity where baseball is concerned. At least, I do. I respect the fact that no one appears harder on Schilling than Schilling himself and I like it when he kicks his own ass and rights the ship as he did last night when he bounced back from a disappointing Opening Day start against the Royals and dominated the Rangers in Texas. Of course, David Ortiz and Jonathan Papelbon had something to say about the win too. But isn't that always the way?
It just seems that no matter how many times I hear the story - Papi belts home runs, Paps mows people down - it doesn't get old. There are new bit players, sure, but the key guys seem to come through. I'm serious, NESN, where's the promo for "
Hangin' with Paps and Papi
?" The people want to see it.
On that note, allow me to address a small plea to David Ortiz.
Dear Papi:
DON'T EVER LEAVE US!
Kthnx,
Red Sox Nation
Honestly, what would we do without that man? I can't even think about it without breaking out in hives and ending up in the fetal position on the floor rocking back and forth and muttering something about Jeremy Giambi.
I'm still skeptical of the new guys, particularly JD Drew because, come on, he has to be held together with bailing wire and newspaper twine. And if, miracle of miracles, he somehow makes it through this season without a major injury AND contributes in a meaningful way (because for that money I'm not going to be happy with "finished the season in possession of all his original limbs"), then I'll admit to being unfairly skeptical. But until then, I've got my eye on him.
::gives JD Drew the hairy eyeball::
And as for A-Rod...CLEARLY HE IS THE BEST EVER AND WE WERE ALL SO VERY, VERY WRONG TO DOUBT HIM AND HE WILL SAVE BASEBALL OH HOORAY LET'S ALL CHEER HIM LIKE A CONQUERING HERO!
Dudes, seriously? Calm down. It's, um, April. I believe Yankee fans are familiar with that refrain? I'm sure A-Rod and his legions of therapists are very proud of themselves and feel vindicated and believe that New Yorkers love him forever and ever and are ready to demote Jeter to AAA and install A-Rod to his rightful place as shortstop and captain of God's own team but really? Might want to wait a few weeks with the excitement there, chief.
And yes, I know that preaching patience and perspective as a Red Sox fan is a bit like going to Chris Farley for dietary advice, but come on, April, people. April. And the thing is, even if A-Rod continues to hit like this, the Yankees are still going to have to pitch better for it to mean anything. Kevin Millar, lovable oaf that he is, is doing his best to make sure that doesn't happen.
And now...a day without baseball. Sadness and woe. I wonder if anyone's talking about that Matsuzaka kid?