The Rick Rambles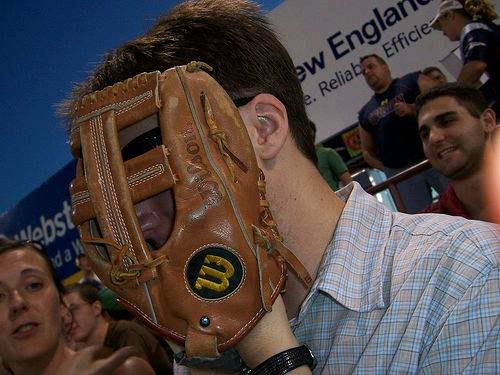 Steve reacts to The Rick's suggestion that Graffanino is kicking Bellhorn's ass out of town.
Pic from TGIC.


So some of the peeps met The Rick this past weekend and they can now state, unequivocally, that he kicks so much ass he needs special shoes. Continuing on the quest for ass-kickery, The Rick rambles on about all manner of things. As usual, my comments are in italics.
At the end of the 2003-04 season, Vancouver Canuck forward Todd Bertuzzi (a very good player, by the way) blindsided and mugged Colorado Avalanche forward Steve Moore, driving Moore's face into the ice and breaking his neck, among other injuries, thereby seriously jeopardizing Moore's career. Bertuzzi was immediately suspended by the NHL (and deservedly so) for an undetermined amount of games/time which ultimately amounted to the final 17 games of that season as well as the playoffs and the non-season of 2004-05. Two weeks ago the league reinstated Bertuzzi while Moore says "I still have a long way to go, and not just in hockey, but with my health,'' according to the Denver Post. My point is this: Hockey is trying very hard of late to put the work-stoppage behind it and draw fans back to the game by improving their product. But for those of you that don't like or don't follow hockey, my guess is that you point to this Roller Derby-like frontier justice system that the league adheres to and wonder how the game can be taken seriously.
I would actually argue that oftentimes, the opposite is true. For whatever reason, people that don't like or follow hockey get sucked in by the cheap violence and the fighting. And the sport, because it allows this kind of behavior, further appeals to the lowest common denominator. It's unfortunate because hockey is a great sport, but blood and guts sell.
Tony Graffanino must have had a "Get Out Of Jail Free" card. How else can you explain his trade from the worst-place Royals to the first-place Red Sox in the heat of a pennant race? And he's getting the job done in spades at a spot where the Sox were badly lacking. (Sorry, Steve.) All of Theo's moves don't work out but this one is looking more and more like a winner every day. And how could Kansas City let him go? Theo must have promised his first born male child. (Who would then, I assume, grow up to be a Robo-GM for the Royals?)
Back in my youth every major league team had a four-man rotation, and it was routine for the better pitchers to have 20 complete games. Sure, there were sore arms but the injuries didn't seem to be as debilitating as these days when teams and managers baby these guys and seemingly everybody has Tommy John surgery.
Albert Pujols is the young National League superstar that everyone's heard of –but the one you may not know of is Miguel Cabrera of the Marlins. Just 22, Cabrera cut his teeth with the Marlins in their World Series championship season two years ago. He, Pujols, and apparently Derek Lee (where did he come from?) along with a now mature Andruw Jones should be battling for a variety of batting awards over the next decade or so.
Have you watched any of the Little League World Series this week on ESPN? Used to be the games were all pitching dominated – but now the long ball is king – and some of them are significant shots. One kid who played for the Saudia Arabian entry was 6'5" and I believe they said 240 lbs. 12 years old! And I don't buy all that stuff about TV causing too much pressure on these young kids. Looks to me like they are all having a blast and it's good experience for them to perform on a stage of sorts.
The experts think Southern Cal, coached by old friend Pete Carroll, can readily three-peat their NCAA D1 football championship this year and here's why: USC's Matt Leinhart may be the reigning Heisman Trophy winner but USC running back Reggie Bush is the best player in the country.
Just wondering what folks think – but ESPN, especially SportsCenter, is starting to bore me. Not enough highlights, too many quiz games and contests, and lame chatter from the hosts. And of course everything is sponsored. The Worldwide Leader's game coverage is excellent, and their Baseball Tonight focus-type shows are great, but there seems to be more and more junk, like mini-series etc. I wish they would be more true to their roots, ratings be damned. That said, I've had the opportunity to watch Cold Pizza several mornings of late and I have to tell you it's pretty good – decent guests, excellent regular contributors, timely topics and decent debates.
Don't know if you've noticed but the Patriots schedule this year is a killer – the AFC East (6 games) may be the strongest division in the NFL, plus four games against the AFC West (SD, OAK, KC, Den), four against the NFC South (Carolina, TB, NO, ATL), plus Indy and Pittsburgh thrown in for good measure.
Looks like we'll be seeing more and more of John Olerud down the stretch and less and less of Kevin Millar. Reportedly Millar is okay with that. (Not sure how he's argue. His bat certainly isn't doing his talking for him).
After all that has been said, I believe we are getting exactly what we expected from Edgar Renteria. I like what I see so far from Jon Papelbon. He looks ready to me and I'd rather see him in there these days than Wade Miller, who clearly has disappointed. (And made me cry. Frequently.)
I hope everyone enjoys the interplay between Don Orsillo and Jerry Remy. Sometimes I don't know what they are laughing about but they make it fun anyway. Over the years my travels have exposed me to many local play-play announcing teams, some of whom are deadly dull, but these two are the best by far. What I particularly like is that they don't take everything too seriously. And they don't assume that the viewing public is made up of retarded monkeys. Which is why you won't hear them saying, "That was ball two on the outside corner which means that the ball was located just outside the strike zone." You will hear them giggling incoherently for three innings but I would imagine covering baseball in an obsessed town like Boston would drive anyone to the brink of insanity occasionally.
Anyway these are my thoughts – but you have yours. Let's hear 'em!