Put Your Money Where Your Mouth Is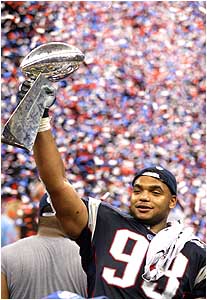 (Big Sey ends holdout)
According to Boston.com,
Richard Seymour has ended his holdout
and will report to Patriots training camp no later than tomorrow.
Sources say that Seymour will earn a reported $5 million for the 2005 season but that he did not get the contract extension he initially sought. Raise your hand if you're suprised.
There are three things you don't do: You don't run from the cops, you don't spit into the wind, and you don't mess around with Bill Belichick. The man will cut you and not look back. Seymour outta know that, he's chummy with Lawyer Milloy and Ty Law.
That said, I'm glad Big Sey is back. The defense was looking a bit thin without either of the Teds returning and Seymour would have been sorely missed.
Welcome back, Big Sey. Now, let's play some football!