Fragile!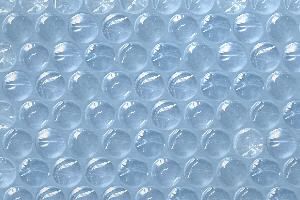 (For real, wrap the entire damn team in it.)
Memo to Red Sox Players:
Effectively immediately, all players will be required to take the field swathed in bubble wrap. This includes batting practice, fielding drills, on field autograph sessions, and team photo day.
This measure is being taken to prevent further injury to Red Sox players. As you are no doubt aware, injuries due to collisions have been a problem recently. At last count, the following players have been injured in an on-field collision:
Mark Bellhorn (collided with Bill Mueller, injured arm).
Johnny Damon (collided with Damian Jackson, concussed).
Trot Nixon (collided with outfield wall, injured back).
Johnny Damon (collided with bullpen fence, injured eye).
Manny Ramirez (collided with Edgar Renteria, injured face and chest).
Johnny Damon (collided with ground, injured elbow).
Edgar Renteria (collided with Manny Ramirez, injured hand).
Johnny Damon (collided with Kevin Millar, injured hand).
Matt Clement (collided with batted ball, injured head).
Johnny Damon (collided with...damn near everything. Injured...damn near everything.)
In light of this evening's collision between Mr. Ramirez and Mr. Renteria in which Mr. Ramirez left the game with "contusions" to his face and chest as well as a bloody nose, it has become necessary to institute such dire measures.
We've also considered wrapping players in packing peanuts but are concerned that said packing peanuts will restrict the movements of the players. This is of particular concern for players such as Mr. Ramirez, Mr. Ortiz and Mr. Millar who are not, to put it kindly, fleet of foot.
We are also concerned that the team has been spending an inordinate amount of money on bandages, antibacterial cream, gauze, Band-Aids and ice packs. If this continues, we may be forced to cut corners by trading a perennial All-Star left fielder or eliminating gourmet mustard from the postgame spread.
Concerns have been raised among the other major league teams that Red Sox players utilizing the protective nature of bubble wrap will gain an unfair advantage over other teams who choose to send their players onto the field unprotected. However, these concerns have been addressed when it was brought to the attention of the remaining twenty-nine teams that none of their players have to share a playing surface with Mr. Damon.
Additionally, the other teams have no problem with Mr. Olerud's ever-present batting helmet (another measure we are seriously considering making mandatory), and the proposed bubble wrap will serve a similar protective purpose.
Only Mr. Varitek and Mr. Mirabelli will be exempt from these new protective measures. The presence of their catcher's equipment renders the bubble wrap redundant. However, should either Mr. Varitek or Mr. Mirabelli find themselves playing long toss with Mr. Damon, they will be encouraged to protect themselves accordingly.
We, as a front office, are seriously concerned with the safety of all our players. And while we appreciate that even after this evening's unfortunate collision, the team was able to pull out an 8-5 win over the Kansas City Royals while the Yankees were losing to the Indians and thus putting another game (up to 4 1/2) between the Red Sox and the Yankees in the division, we consider the safety of all players to be of utmost importance.
Rest assured that should this new measure not prove effective in eliminating collision-related injuries, the team will not hesitate to try any number of back up plans up to and including inflatable Sumo-wrestler style suits.
Thank you for your cooperation.
Sincerely,
Boston Red Sox Front Office