The Great Emancipator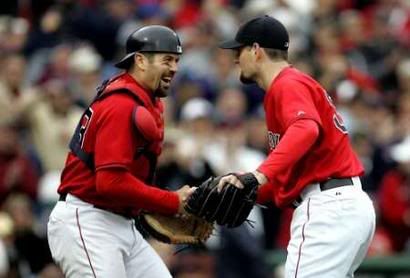 (photo from Yahoo! Sports)
This is what happens when you believe in and encourage your chew toys. They reward your faith with complete games. Matty Clement replaced Adam Hyzdu as my Red Sox chew toy this year when Theo made the unconscionable maneuver of trading Hyzdu for Red, White and Blaine Neal. But I'm willing to let it slide if Matty continues to perform in such an ass-kicking manner.
Once again, with Beth, myself and Jay present, SG in-person mojo did not disappoint.
Beth and I were seated in Grandstand 18, just to the third base side of home plate and up a section. Or, as I quickly dubbed it, "prime catcher viewing territory." Yowza. Sporting a wine hangover headache the approximate size of Rhode Island, I entered the park with Beth telling myself, "a bottle is not a serving…a bottle is not a serving." It's entirely possible I'll never learn. Waiting for Beth I'd mainlined some coffee and wouldn't you know it, spilled the last sip all down the front of my pristine, white, Varitek jersey as I jumped when my phone rang. Bloody hell. Apparently, not only do I not know my limits but I can't even transport beverages from cup to mouth without missing horrifically. I tried my best to cover up the mess I'd made of myself by zipping my jacket up to my neck, thus effectively negating the fact that I'd worn a jersey in support at all. I don't know what to tell you kids. They keep telling me I'm an adult but I just don't believe it.
Prior to game time, Beth and I made our way down to the first baseline to try to catch a glimpse of some players either signing autographs or stretching or doing whatever their player-y business entails. We say John Halama who I promptly called "Eyebrows of Doom!" throw a few long tosses with…someone, someone with a nice ass, before signing some autographs for kids and wearing his glove as a hat. Beth took many, many pictures which I hope to be able to link to soon.
I turned for a split second to talk to Jay and Beth was gone, nowhere to be seen. A few moments later when she reappeared, she told me she'd seen Terry come out of the dugout and she made a beeline for him, capturing a beautifully framed picture for her troubles. "Nobody should be as excited about Terry Francona as I am," she said, "No one."
The three of us made our way down through the concourse and over to behind the Sox bullpen where we watched Matty complete his warm-up routine. Correction, Beth watched that. I watched Jason Varitek throwing long tosses. To someone. Forgive me if I wasn't paying complete attention to the other end of that game of catch but such close proximity to the Thighs of Freedom gave me head explody and made it rather difficult to concentrate on anything else. Even when the security people started shouting, "Time to find your seats, people!" I just kept staring, my brain registering something like "Seats…Section 18…far away…so pretty…unf love baseball…wheeee!" A girl in a pink Sox hat a few spaces down the line screamed, "Jason Varitek, I love you!" And I shot her a look that can charitably be described as "withering." Beth looked at me and laughed, "I am rather protective," I said, "Plus, I could snap her little pink wearing ass over my knee." I was very nearly forcibly dragged from the railing.
Beth and I made our way to our seats and I realized, a few batters in, that I was sitting next to a Braves fan. I turned to Beth and said, "I don't like sitting next to a fan of the other team. Makes me want to hurt someone." To this gentleman's credit, he was exceptionally well-behaved. He did not mock our players, nor did he cheer too loudly for his team. Just some polite clapping. He was even so helpful as to answer my questions when I wondered rhetorically, "Who the hell is Pete Orr?" And to show that he had a good sense of humor, when Julio Franco stepped up to the plate and the fratish boy behind us yelled, "You're so…old!" he laughed right along with the rest of us.
I would attempt to describe Matty's performance but frankly, mere synonyms for "great" and "nails" just won't do it justice. He wasn't perfect, but he was damned close. He made it through four innings before allowing a hit and he never let the fact that his teammates weren't scoring any goddamn runs for him despite the fact that THEY CONSTANTLY HAD MEN ON BASE bother him. I've long said that Matty always looks about one bad pitch away from collapsing on the mound in a sobbing heap but yesterday he looked…different. Strong. Like an ace, even. Matty struck out seven and walked exactly none which is a marked improvement on the few walks he usually sandwiches in there. Coming to Boston, we'd heard that his control could be an issue, and I've no doubt that working with Varitek is huge for him, but some credit must go to Matty himself. Despite the fact that Beth was itching to see her boy Foulkie, I think it's safe to say the rest of us in attendance wanted Matty to finish what he started. And it only took him 110 pitches to do so. Thus far, Clement is 5-0 on the young season. And until yesterday, he'd mostly slipped quietly underneath everyone's radar. We've been so focused on the status of Schilling's ankle and the hair-pulling aggravation of David Wells' existence and even the renaissance of Bronson Arroyo that Matty has mostly gone about his business and done his job with very little fanfare. I'd say yesterday was his coming out party, as it were. A real welcome to Boston and to Red Sox Nation. He showed us what he can do and we responded in kind, rising to our feet and cheering him as he emerged from the dugout at the top of the ninth, trotting slowly to the mound. And we stayed on our feet, clapping until our hands stung until he recorded the last out. Because he helps us, and we help him. That's how it is in these parts.
Additionally, Manny's home run came after a few frustrating at-bats where he'd either ground out weakly or hit a screaming liner directly at a fielder. It served as a reminder that no matter what he's doing currently, he's still Manny Freakin' Ramirez. "Remember when you won the World Series MVP, Manny?" I said, "That was fun. More of that, please." Manny responded by waving meekly at a pitch two feet outside the zone. "You know," I said, turning to Beth, "There are people who say he only did that so Smoltz will throw him that same pitch next time and he'll send it over the Monster." Beth nodded, "The belief in his powers is unparalleled. I honestly think he could hit a home run in every at bat if he wanted to. He just chooses not to." And then in the very next at-bat, he did.
My brother who was seated behind the Red Sox bullpen with his girlfriend summed it up thusly after the game, "That was a wicked shot. Like really, really far." Manny Ramirez is still Manny Ramirez. Let us never forget this.
As for Varitek, he went 2 for 5 with a pair of singles and a run scored. Plus, he caught that gem. Because of the unfortunate coffee spillage, he was not aware that I was wearing his jersey in support but methinks he knew it anyway. Yes, I choose to believe that Jason Varitek can read my mind, what's it to you?
My brother, who I met up with postgame, hypothesizes that Dougie strained his wrist by pouring Gatorade for the team from atop the cooler. As good an explanation as any, I suppose. He'd already figured out that we most likely won't be seeing Wake in Toronto due to the way the rotation falls so Kev figures that he can just sit next to the Red Sox dugout and scream "Doug! E! Fresh!" for nine innings until he comes out to sign his jersey and shut him up.
So I'm out for a while, kids. I've no idea if I'll be able to get wireless access in Toronto but if I can, I'll try my damnedest to do some blogging across the border. Supposedly, we're also visiting the Hockey Hall of Fame and posing with the Stanley Cup. Rawk!
Oh, and as an adieu, allow me to wish a very happy birthday to a one Mr. Steve Brady. Happy Birthday, Steve! May you be rolling in women after all!