All Hail the Church of Baseball!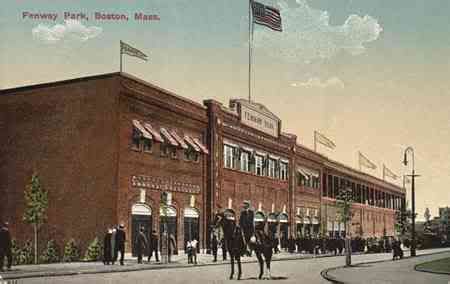 (Fenway is staying! Be patient, I'll get to it eventually.)
Aside from the fact that Johnny Damon has apparently shaved (big news in New England), these are the things you learn when you're sick and you spend the entire day on the couch watching a "CSI" marathon (always wear gloves when you strangle someone), drinking protein shakes that taste like watery chalk and checking the same fifteen internet sites repeatedly:
Barry Bonds may be out for the season, or forever. Or maybe just for a few weeks. Oh, and it's all the media's fault.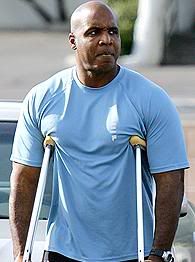 (photo from ESPN.com)



Per Gordon Edes, Boston Globe:



The man who has shown a remarkable capacity to shut out the cacophony of voices that believe his pursuit of Hank Aaron's home run record is a tribute more to his medicine cabinet than his considerable athletic skills, sounded like a man beaten down.




Poor Barry. Must be tough trying to fend off steroid allegations, deal with multiple knee surgeries, watch the odds of your pursuit of Babe Ruth and Hank Aaron diminish and, my god, play baseball, for a mere $18 million a year. Let's all offer Barry our deepest condolences *snerk*.

"I really don't have much to say anymore," Bonds said. "My son and I are just going to enjoy life. My family's tired. You [media] guys wanted to hurt me bad enough, you finally got there.

"You wanted me to jump off the bridge, I finally have jumped. You wanted to bring me down. You've finally brought me and my family down. Finally done it. From everybody, all of you. So now go pick a different person. I'm done. Do the best I can, that's about it."

Now, I don't like to see players hurt (except maybe when Derek Jeter breaks his face, that's sort of funny), but I realize that as players age, their bodies betray them and they break down more frequently. Apparently, Mr. Bonds doesn't understand this and he fully expects his body to remain in tip top (if chemically aided) shape for years to come. Therefore, by his reasoning, the only explanation for his knees giving out on him is the mental and physical strain the media have put on him. I guess we all missed the part where the media as a whole went to Bonds' house, took numbers deli style, lined up and took turns beating him about the knees with a lead pipe, Tonya Harding style. Save it, Barry. It's a little late in your outspoken career for you to be playing the sympathy card.



A baseball official with knowledge of the situation said the Giants were caught off-guard by Bonds's pronouncements that his knee problem will keep him sidelined until midseason at the earliest.



Well right, because it's not about the team, it's about Barry. As usual. If Barry wants to sit out the season and pout, Barry's damn well gonna sit out the season and pout. Because he's Barry Bonds. And what Barry Bonds wants, Barry Bonds gets.

Barry, buddy, it's simple really. Two words. Three syllables. "No comment." We don't need the verbal diarrhea from you every time you're asked a question. "No comment" will do fine. Learn it, live it, love it.




Even Bonds' fans are tiring of him. My dad, a Giants fan for 45 years won't even defend him. The most he'll say is, "He's a great baseball player but he sure makes it impossible to like him." If he does miss all or part of this season, maybe it won't be such a bad thing after all. I for one, could use a Barry break.

******




School kids in Acton have gotten their Superman Underoos in a twist over the lack of handshakes between the teams during Red Sox/Yankees games. According to the Globe, the Merriam School Handshake Project was spearheaded by a group of students and teachers following the Red Sox historic comeback victory in the ALCS.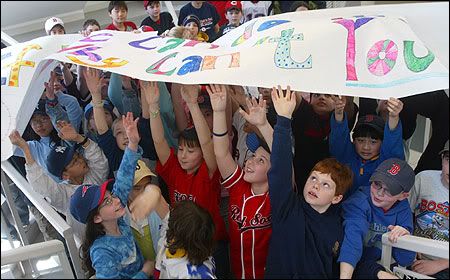 (photo from Boston.com)

''Fans and players are getting too worked up about what's just a game," the students wrote in their letter to Selig. ''The negativity and intensity is influencing children's sportsmanship after our own sports games. After children's sports games, we shake hands with the team we're playing. . . . If kids can show good sportsmanship, then professionals can too."


I'm all for good sportsmanship but kee-rist, this is what we're spending our educational dollars on? No one seems to think that our priorities are a bit out of whack if kids are taking time out of their school days to make a PowerPoint presentation aimed at shaming Jason Varitek and neglecting things like, I dunno, geography? Varitek has already made it clear that he won't sign pictures of the mitt sammich he gave A-Rod because he doesn't want to endorse such behavior. And I'm pretty sure that most twenty-year-olds I know think that New England is a state and can't figure out the 20% tip on a $10 check, let alone fifth-graders. Maybe we need to rethink this.
The PowerPoint show begins with an image of students saying, ''We look up to you." A series of photos follows, with one showing Varitek going at it with Rodriguez and another portraying children shaking their fists at one another. One is dressed as Zimmer. Beneath that image, a caption reads, ''We follow your example."
Ah, guilt. That'll work. Could this possibly be more manipulative? How do you think Varitek, a dad of two young girls with another mini-Tek on the way, will feel about this? That's not playing fair. There are many things I love about my captain, but one of the best is his fearless, warrior-like attitude. If he needs to throw his weight around to protect his pitcher, I want to know that he won't hesitate to do so. I don't want to think that he'll step away and let Bro-yo or Clement or whoever take the heat all by themselves because some kid in Acton might see him being forceful and start crying. Kids need to learn the difference between school yard games and professional sports. And sometimes, especially in a rivalry as intense as Red Sox/Yankees, emotions boil over. It's just part of the game. Yes, these players are role models for area children, but that does not mean the players have to parent these kids. The task of differentiating between right and wrong needs to be left up to a child's parents. It is not Jason Varitek's job to raise your kids. And there's something to be said for standing up for your teammates as well. Teach your kids that.
Anyway, shaking hands with the opposing team is against the rules.
There is a rule against the handshake, though it has rarely been enforced. Rule 3.09 of the official playing rules says: ''Players of opposing teams shall not fraternize at any time while in uniform."
So neener. Besides, a little bad blood is good for the soul.
******

Patriots linebacker Tedy Bruschi may sit out the 2005 season according to Ron Borges of the Globe. This really shouldn't come as a surprise to anyone who's been paying attention to the Bruschi situation for the past month.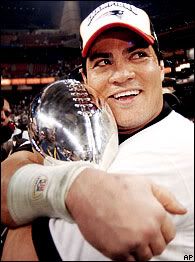 On Feb. 16, Bruschi was admitted to
Massachusetts General
Hospital
after having a mild stroke. He was released a couple of days later, but reports from an Arizona television station had him reentering Mass. General recently to have a hole in his heart repaired.


Bruschi negotiated a new contract last year and if he retires, the contract would be voided. However, both Bruschi and the Patriots have some options.
If Bruschi retires, the deal would be voided, but if he sits out 2005, he could be paid his full salary if the Patriots place him on the physically unable to perform list. If they put him on the non-football-related injury list, they would not be obligated to pay him his salary but still might choose to do so, as the Panthers did with Fields in 2003.
If Bruschi retired before June 1, the Patriots would face a daunting salary cap escalation of more than $2.6 million, the pro-rated portion of the signing bonus, which could not be spread over the four-year length of a nonexistent deal.
Sitting out a year may work in the best interest of all parties, because the immediate salary cap hit would be avoided by the Patriots, while Bruschi would have a year to regain his health and receive his $850,000 salary.
As much as I will miss seeing #54 running around that field and banging into things with abandon, I think this is probably the right move for him. He's a young guy – only 31 – and these aren't minor medical conditions we're talking about here. The brain and heart are pretty damn important areas, for anyone, let alone a professional linebacker. In this instance, I would have to agree with Beth when she says: "Frankly, if he does [play], I'll be a little bit mad at him--he has three little kids at home who need their Dad more than the Patriots need a linebacker."
It's possible that he'll be back in the future. If not this coming year, perhaps the year after that. It all depends. But even if he never puts on a uniform again, I can't imagine Bruschi leaving football, and moreover, the Patriots entirely. He's never known another professional team and the Patriots are nothing if not a classy organization. If Tedy Bear decides not to play again, I fully expect to see him on the sidelines, teaching the newbies a thing or two.

******

The "lyric little bandbox" is staying put. And so is the team that plays within its green and brick red confines. Fenway is here to stay. I, for one, couldn't be happier. Fenway Park is not simply a ballpark. It's an institution. It's history. It's a living, breathing monument. Yes, the seats are cramped, yes, the bathrooms leave a little something to be desired and yes, "obstructed view" may very well mean that you'll be watching the game with a support pole between your legs but damned if it isn't still the best park around. Fenway is baseball.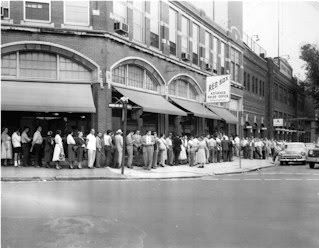 According to Dan Shaughnessy (I know, I know but I really liked this paragraph):


You'll be taking your children and grandchildren to the same ballpark where your parents and grandparents took you. You'll be craning your neck around those same poles and crushing your knees into those same chairbacks for another 10, 20, 30, or more years. This Old House is going to be home to the Red Sox for a long, long time.
Hallelujah! Praise the names of Williams, Yaz, Ramirez and Nomar. The church of baseball will still hold forth in the one true cathedral. Fenway lives.
Kevin Millar was happy to hear Fenway is staying.
"No doubt about it," said the first baseman. "I don't like all those new stadiums. I love tradition. Some stadiums need to be smoked, like old Milwaukee and old Cleveland, but how can you not play at Fenway? As far as the parking problems and the smells, that's part of it. You deal with that. Walking out that tunnel, smelling that funk, that's where I want to play for the rest of my life."
And this is coming from a guy who's called Fenway home for a mere three years. Imagine what a lifer would say. Why don't we let them tell us?
Trot Nixon: When the Sox right fielder was asked if Fenway might be as popular as the Red Sox, he answered, "It might be more popular."
Jason Varitek: "There's been a continuation of trying to make Fenway more modern," said Sox captain Jason Varitek. "That's important. Making it as comfortable as they can for the fans. The closeness of the field is great because it has the people right there on you. But there's going to be dirt wherever I'm at, so I'm pretty happy."
David Wells still doesn't like it but frankly, I'm still not sure I like David Wells so neener. But it is nice to know that long after the Fat Man has retired, Fenway will still be going strong.
I cannot be rational about this place because it means so much to the team, the fans, the region and, above all, the game of baseball. People do not come to Boston to see the Red Sox, they come to Boston to see Fenway Park. Some day, I want to walk past Fenway with my children, point to the brick and the green facade and tell them, "This was the home of the Red Sox when I saw them win the World Series. This is still their home."
I have been to many of the new parks - Citizen's Bank Park in Philadelphia and SBC (then Pac Bell) in San Francisco are two of the most often referred to when describing the wonders of a new ballpark. I have been to both and they are both exquisite, lovely, comfortable and convenient. But they aren't historic. And they aren't special. They're just "where the team plays." Fenway is home.
In 2012, the Red Sox will become the first team in Major League history to celebrate 100 years at the same ballpark. That's quite an accomplishment. If that's not a living link to history, I don't know what is.
Something about Fenway tends to turn casual fans and hopeless ramblers like myself into poets and bards. We all become bad imitators of John Updike and our speech adopts a reverent tone. It's hard to explain. Pardon me while I turn to a distinctly non-literary source to help me explain. I quote Annie Savoy from Bull Durham: "It's a long season and you gotta trust. I've tried 'em all, I really have, and the only church that truly feeds the soul, day in, day out, is the Church of Baseball."
The Church of Baseball is my religion too and Fenway is my cathedral. I'm glad to see the old girl's sticking around.