In other news...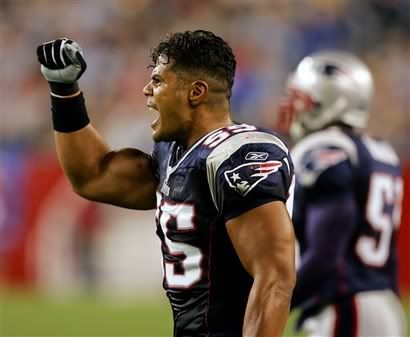 (Photo from Yahoo! Sports)
Popeye, erm, I mean Junior Seau, would like you to know that he is PUMPED about the upcoming Patriots season.
Who wants to talk about the 41-0 drubbing the Pats dropped on the Redskins on Saturday? Yes, I know it's preseason. Yes, I know it doesn't count. Yes, I understand that there isn't much you can tell from a preseason game. But it was certainly nice to see a local team lay the smack down,
Red Sox
.
Amy and I caught some of the game at the Pour House after spending the day at Fenway watching the little 'uns play a doubleheader during Futures at Fenway. The highlight of which was either the entrance and subsequent reception to the Papel-Baby, Joshua Papelbon, the fact that Trent Durrington has "Sweet Child O' Mine" as his at-bat music or Haverhill and Northeastern boy Carlos Pena's 2-run homer which turned out to be the eventual game winner in game two.
It surely wasn't the girls sitting behind us who spent four consecutive innings regaling each other with drunken sorority stories in which
they had all participated
. Nor was it Lenny Dinardo's early exit after a mere three innings of work. At that, I called Marianne. "Confirm or deny," I said, "Lenny Dinardo left after three innings because he had to attend the Justin Timberlake show at Avalon." "Confirmed," Marianne said, "although some people would claim it was a 'rehab start' and he was 'on a pitch count.' But I don't think these things are mutually exclusive."

Also, at one point during the game, the three small boys in front of us became downright entertaining as they formed an impromptu air band between innings. These kids were maybe eight or ten-years-old and they knew all the words to all the songs. John Mellencamp, Guns 'N Roses, they knew it all. These kids were awesome. It was like seeing into my future because if I ever have kids, that's the kind of kids I'm gonna have. I suspect mine would be the air drummer.

I should also mention that, because it was minor league day, there was all this between innings nonsense that I could really do without. But it was all made worth it when footage of Jonathan Papelbon demonstrating the Chicken Dance was shown on the scoreboard. This has to be on YouTube somewhere. I must see it again. You must see it. Everyone must see it.

I would talk about the performance of the big boys in Seattle, but honestly, why bother? As I said to
Kelly
, how many times can you say, "This team sucks donkey balls?" I've got to learn how to say that in other languages.
But the Patriots, ah, the Patriots. God, how I missed them. Also, mark it down: Ben Watson is going to be Tom Brady's number one receiver this year. You heard it here first. We, uh, we don't want to talk about the Deion situation.