Odds and Ends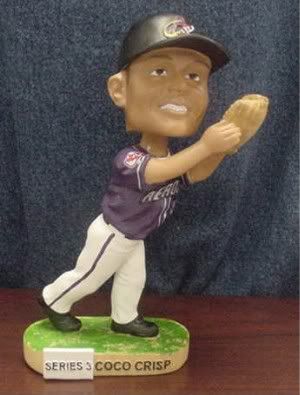 You'll have to forgive me for the lack of updates lately. I've been swimming around in a Sudafed cloud and threatening to swallow the entire box so as to make my head as dry and arid as the Sahara. Or I was, until Colleen informed me that in areas where there are high concentrations of meth labs, they control the sale of Sudafed since it's used to make methamphetamine. I swear, I would be the worst drug lord ever.
Anyway...
So let me see if I understand all this. We've got a centerfielder? For real this time? This isn't like a Rent-A-Player program or something, is it? We don't have to give him back if Shoppach gets a hangnail or anything, do we? Because I gotta tell you, I might have started believing that Tito was planning on showing up to Spring Training and making Trot run wind sprints so he could be fast enough to cover both right and center until Gabe gets healthy. But I guess there'll be an actual human type person patrolling center. Well, how do you like that?
Even better, he's named after a chocolately cereal. How long before the "Loco for Coco" shirts appear on Landsdowne Street? A month? Two weeks? Tomorrow?
And, it appears, we've also got ourselves a shortstop. A shortstop who, it turns out, is not entirely unfamiliar with taking over for Edgar Renteria. According to
Gordon Edes' article in today's Globe
, "In 1999, when the Marlins traded Renteria to the Cardinals, Gonzalez became Florida's everyday shortstop and made the All-Star team for the only time in his career." Well how about that? Lucky for him, he won't have to do too much to get the fans on his side. Anything under eleventy billion errors will suffice.
So, centerfielder? Check. Shortstop? Check. Dude aptly named "Riske" added to the Sox bullpen? Check. Excellent. We appear to have an entire team of baseball players (and one space cadet patrolling left) ready to take the field in a few short (long?) weeks.
Now I am left only to wonder what will become of Dougie out in San Diego as the
Padres have signed Mike Piazza
to a one year deal. According to San Diego GM Kevin Towers, "His experience and his knowledge of the National League behind the plate is a big plus." Towers is aware that Piazza is the butt of all "defensive liability" jokes, yes? I mean, even the writer of that article knows that, "Much has been made in some circles about Piazza's defensive liabilities, mostly because opposing runners have stolen more than 1,300 bases with his success rate at throwing out runners at just 24 percent."
Oh, but Towers has an answer:
"The numbers don't lie. He struggled last year throwing out runners [just 13-of-95], but having a manager like Bruce Bochy, who was a former catcher, I'm sure can really help him work with his release and his footwork," said Towers. "We're going to have to help him out. Our pitchers are going to have to slide step and do a much better job at holding runners at first. And hopefully, Boch's instruction can help him along.
"I certainly feel, regardless of his numbers, that this guy is going to do enough damage with his bat that will make up for maybe his lack of throwing arm," said Towers. "I do feel that stolen bases are a very overrated stat."

Stolen bases are overrated? I wonder what Dave Roberts, Piazza's new teammate would have to say about that.

As for Dougie, let's hope the Sox can finally ship the Fat Man out to the West Coast where he so desperately wants to be and bring Dougie back to his rightful place as Tim Wakefield's personal catcher. Y'all know my love for Tek is strong but I do NOT relish watching every fifth game between my fingers as inning upon inning of the Neverending Passed Ball-A-Thon continues. And John Flaherty wears a stupid hockey helmet. So he's out. Come on, Theo, bring Dougie back.