Laboring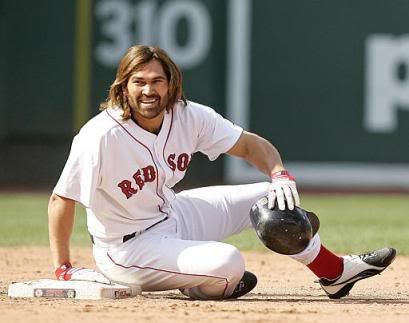 (photo from Yahoo! Sports)
Observations on this holiday weekend's series while keeping my feet off the floor less the vermin that have infested my apartment decide to munch on my toes:
Mark Bellhorn is the smallpox-infested blanket of the American League. We all but gift-wrapped him for the Yankees, all the while, half-lamenting the fact that we had to let him go and "Oh, geez, I hope he doesn't sign with the Yankees and help them defeat us in the pennant race," while secretly winking at each other and hoping against hope that he takes up right where he left off chasing the single season strikeout record. Watching the Yankees/A's game with Sebastian last night – and watching Bellhorn strike out with the bases loaded – was a bit of an incongruous mental exercise. On the one hand, Bellhorn is striking out, which, unlike in the past, is actually good. On the other hand, it's rather hard to believe that it's actually Mark Bellhorn out there since he looks positively washed and Cheeto dust-free. I prefer to think that Bellhorn did not exist before he was on the Red Sox and I would like to continue believing that he does not exist after leaving. Allegedly, he was on the Cubs but the National League is a far off land of legend and mystery so that's pretty much the same as not existing. I fail to understand why he did not go back there.
I am delighted to see that ESPN had no less than eleventy billion interviews with Derek Jeter during last night's game. No, really, it's fantastic. I am equally ecstatic to see that Mr. Jeter continues to rock the early 90s fade and may in fact be the long lost third member of Kid 'N Play. I would not be surprised in the slightest to see him remove his batting helmet to readjust it during his at bat only to reveal a number "2" shaved into the side of his head. He's hip like that. The rap group participation would also explain his rather acrobatic jack-knifing moves when he wants the umpire to know that "No, sir, that was not a strike. No siree."
John Olerud? Possibly one of the best moves Theo's made this year. I mean, considering the dude is all hitting home runs and picking Billy's sometimes difficult throws from the dirt. And he goes about his business quietly, with very little fanfare. In fact, I've decided that when the team is on the road, Olerud routinely eats dinner with Edgah wherein they sit mostly in silence, save for an occasional comment on the deliciousness of their pasta primavera. They shoot sidelong glances at the hotel bar where Kevin Millar is dancing, bare-chested on the bar with Varitek's neck tie wrapped around his head while leading the bar in a sing-along of "The Devil Went Down to Georgia."
I have also decided that Kevin Millar and Dawn Timlin (who was spotted on NESN sporting a camo hat and a seriously ripped upper body) have closed down more than one hotel bar. Long after everyone else has gone to bed, it turns into that scene in Raiders of the Lost Ark with Karen Allen and the Mongolian yak herder matching each other shot for shot. And like in the movie, the chick wins. Dawn Timlin kicks ass, y'all.
Brian Roberts is a tiny, tiny little man. Which does not mean that Marianne loves him any less. But I would caution the broadcasters that using the phrase "over the head of Roberts" should not be met with such great enthusiasm considering that he's all of 4 foot 8.
Curt Schilling. Someone hold me.
Complete games from David Wells after serving a suspension confuse me. Because he remains David Wells. I shall assume he went for the light beer on Saturday night and therefore, was in better form to pitch yesterday. Possibly, he also threatened Tito if he trusted his game to the shakier-than-a-San-Francisco-fault-line-bullpen.
Based on the outcome of today's makeup game with the Chicago White Sox wherein the fearsome Red Sox lineup managed a measly three hits off the White Sox' rookie pitcher for seven innings, shouldn't our potential playoff opponent (assuming we make the playoffs, fingers crossed) just throw out their first three available AAA pitchers? Or the bat boy? Or perhaps the clubhouse attendant? Because we see Cy Young winners and we're all "into the stratosphere, bitches!" But we see a newbie pitcher and we're all, "What? WHAT? WHAT?!?" Le sigh.
Anyway, onwards and upwards. The Los Angeles Angels of Anaheim Orange County, California, the US, the World, the Universe come to town starting tomorrow and we shall, you know, play them. Let's go, gentlemen. It's crunch time.