Deja Vu, All Over Again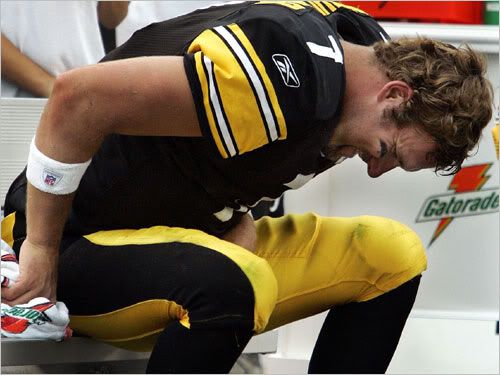 (photo from Boston.com)





Roethlisberger learns: Mess with bull, get horns, etc.





This is how the story goes:




Tom Brady leads drive. Adam Vinatieri makes kick. New England wins.




Some would say it's time for a re-write, but an entire six state region would argue otherwise.




Tom Brady leads drive. Adam Vinatieri makes kick. New England wins.




It's become my favorite bedtime story.




And you know what? It wasn't perfect. Yesterday was not perfect. Not by a long shot. It was the kind of game where you go into halftime down by three points but feeling like you're down by three touchdowns. Red zone turnovers and mental mistakes resulting in penalties seemed as if they were going to doom the Pats for the second week in a row. But then, somehow, quite possibly because he's a magical wizard who makes Gandalf look like a hack, Belichick smacked some sense into his team and they came out ready to rock. I like to think that he just walked into the locker room, looked around slowly and said, "I'm so disappointed in you," before retiring to the coach's office and letting the team stew in the disappointment. Because I'm fairly certain that there are few worse things than disappointing Bill Belichick.



There were still some hiccups, like that last bit wherein the defense was all, "Wha? There's still time left? Oh…shit," as they watched Hines Ward catch a game-tying four yard touchdown pass from Roethlisberger, thereby preventing the patented Ward Waterworks for another minute and a half. But then it ended how it always seems to end:




Tom Brady leads drive. Adam Vinatieri makes kick. New England wins.




Thank you and goodnight.




Oh, and while we're at it, I'd like to echo Sam here and say that "for the safety of all future Patriots players, that entire stadium [Heinz Field] needs to be blown into little teeny tiny bits, set aflame, and paved over." Because…word. Site of Brady's twisted ankle in the 2001 AFC Championship game. Site of Ty Law's broken foot on Halloween of last year. And now Rodney Harrison and Matt Light go down with serious injuries. I'm off to Pittsburgh in a rented bulldozer. Who's with me?




I would talk more about Rodney Harrison right now but I'm not sure how to translate uncontrollable weeping to the written word. Let's…just not speak of it.




But when all was said and done, when the smoke cleared and Hines Ward's tears had dried, the world was as it should be, and the Patriots had locked up another win. Baby Ben was injured and both teams had taken quite the beating in another last man standing situation. It wasn't dominance, but it was good enough. And I'll take it.


Here is what we know: If you need a definition of clutch, you need look no farther than the men wearing number 4 for the Pats and number 34 for the Sox. This is greatness and performance under pressure. And damn is it sweet.



*******


Speaking of dominance, the Red Sox, in what seems like the first time in the history of ever, swept the Orioles and remain in a deadlocked tie with the Yankees for first place in the AL East. Seven games remain. All home games for the Sox, all away games for the Yankees. Let's hope that home-field advantage really means something. We knew this wasn't going to be easy. Strap in.




*readies gallons of water, flashlights, batteries and canned goods*




*straps on hard helmet*




Prepare for some apocalyptic baseball (TM Beth).




It's so on.