Apologies to VH1 but this is truly the Best Week Ever
(my week in a nutshell)
So this is what it's come to. I'm a sports nomad. It all started innocently enough. My dad tells me over Easter weekend, "Hey, your mom's got her shopping weekend the 15
th
through the 17
th
of April. If you want to come home, maybe we can find some games to go to or something." That was it. That got the ball rolling. And here I find myself, on the precipice of perhaps the most sport-acious week ever for someone who's not actually a, you know, paid, credible sports journalist. Just you check this action out.
Tonight, Thursday, April 14
New York Yankees vs. Boston Red Sox
Fenway Park, Boston, MA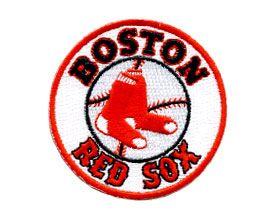 It's almost backwards really, starting out with this match-up. This should be the cherry on the sundae of a week of non-stop sports. But when Deb called, all excitable yesterday, asking me if I wanted to go to Yankees game (I keep reminding her that it is, in fact, a Red Sox game), I wasn't about to say no. Because the gods have smiled on me, I don't have to see an Opening Day rematch of Randy Johnson and David Wells. Instead, we get Bro-Yo. So it is, as I so succinctly put it earlier, The Flaccid Unit vs. Saturn Balls. Edge: Boston. I mean really, look at this man. Him and his Eight Buckets of Ugly Teammates surely don't get this kind of attention. Matsui on the Jumbotron makes small children cry. As for Giambi, well, I was bitterly disappointed in the apparent lack of heckling the Fenway Faithful rained down upon him last night. You can bet I'll be doing my part to turn that disturbing trend around. As Deb said last night when Giambi's horrifying mug shot was flashed on the screen, "He looks like a very unpleasant person." Well said.

******

Friday, April 15
Lowell Lock Monsters vs. Manchester Monarchs
Verizon Wireless Arena, Manchester, NH

You all remember hockey, don't you? The game of ice and puck and curvéd stick? This be minor league hockey which kicks so much ass it needs special shoes. Or skates. Of course, being that the major leaguers have spent what would have been the season either playing in European leagues, flipping burgers or, I don't know, scratching themselves, the pace of this might be a bit different. I guess some of the pros have gone slummin' with the minor leaguers and, if that's true, it might add a higher level of urgency to the game. Because what scrappy minor leaguer wants their playing time cut in half to make way for a pretty boy, millionaire pro? That's what I thought. And can someone explain to me what a bloody "Lock Monster" is? "Loch Monster" I would have understood because in my infinite geekdom, I read lots and lots about the Loch Ness Monster and hope fervently against my better judgment that it's a real thing. But a "Lock" monster? Is this just poor proofreading on someone's part? Is this a Lowell thing I don't understand? Also, the Monarchs have a roaring lion as their mascot. Awesome. But they also wear purple. Somewhat less awesome. Anyway, Lowell Lock (h?) Monsters vs. Manchester Monarchs. Woo alliteration! Oh hockey, how I miss thee!
******
Saturday, April 16
Green Bay Blizzard vs. Manchester Wolves
Verizon Wireless Arena, Manchester, NH

That's right, kids. Not just football, arena football. This is what happens when you miss the pigskin so much its palpable. You pay too much for tickets to arena football. My dad, who really should know better, forked over his credit card and said, "Why don't you get us a couple of seats to the Wolves game on Saturday?" Apparently by "couple of seats" he did not, in fact mean "the best seats in the damn place." So we're sitting on whatever the equivalent of the 50-yard-line is in arena football. The 25-yard line? I expect there will be much crashing into boards (like hockey!), 7-yard field goal attempts and a score of something like 79-65. Sadly, there will be no Bon Jovi sightings as the Green Bay Blizzard are most decidedly not the Philadelphia Soul. Le sigh. But even though baseball season is in full swing and I've got my Red Sox rooting pants on, I still long for the football. I'll take it in whatever way I can get it. So…go Wolves!
******
Sunday, April 17
Buffalo Bisons vs. Pawtucket Red Sox
McCoy Stadium, Pawtucket, RI

Minor league baseball, oh yes indeed! Also, the World Series Trophy which I will try very, very hard not to steal. I can't make the same promise about Kevin Youkilis. He may end up in my backseat, hog-tied and dropped off in Terry's office with a note pinned to his chest saying, "Found this in Pawtucket. I believe it belongs to you. Please make use of it and don't lose it again. Sincerely, A Concerned Fan." I mean, on one hand, YOUUUUKKK! But on the other hand, Youk? Boy's a big leaguer now. I mean I know they had to option him down to AAA to make room for Schilling but could someone explain to me what the bloody hell Blaine Neal is doing on the roster? Whatever, I'm still pissed we traded Hyzdu. Now I have to find a new chew toy. Amy, however, is excited about the Youks because she's recently hopped aboard the Kevin Youkilis love train and she'll get to see her new boyfriend, up close and personal. I will get to see Kelly Shoppach, aka Training Wheels, my minor league catcher boyfriend. So it's a win-win. Anyway, Paw Sox baseball! Cheap beer, good French fries and the World Series trophy. A good day indeed.
******
Monday, April 18
109th Boston Marathon
Boston, MA
Because my office is located smack dab in downtown Boston and getting to work even on a normal day is dicey at best, never mind on a day with an influx of one million additional people, our office manager, in her infinite wisdom, has elected to give us all a "stealth holiday." I mean, we're "working from home," if by "working from home" you mean, "helping Amy throw a marathon and Sox watching party with many drinks, food and the like," then yes, yes we are. Yeah, don't tell our New York office. So that's Monday, then, commencing at 10:30am to get our drink on so as to be sufficiently prepped for the 11:00am Sox game against Los Blue Jays and their horrific, horrific uniforms. Then, at or so, we all head out to Amy's deck, drinks in hand, to watch thousands of other people perform a miraculous athletic feat while we toast them with high-calorie beverages and devour carb-laden food. Mmm, marathon. The irony is delicious.
******
Tuesday, April 19
Toronto Blue Jays vs. Boston Red Sox
Fenway Park, Boston, MA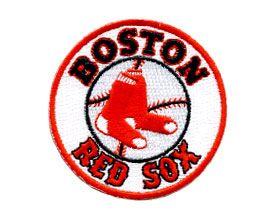 And so, like many pilgrimages, this one ends where it began, except in right field. Thanks to the lovely and talented Caitriona who was looking to sell some of her Sox tickets and the Bank of America who continues to allow me to transfer money from my savings account despite me telling it to, under no circumstances, let me spend my rent money on Red Sox tickets, I'll be sitting in Trot territory hopefully watching the Sox beat the snot out of the Blue Jays. If for no other reason than they should be punished for those softball jerseys they insist on wearing. Looks like I'll get String Bean again if I've done my math correctly and that is just fine by me. After, it feels like years of attending nothing but Wakefield pitched and Mirabelli caught games, I've finally been given some Tek. You'd think, once every five days is not that often. There's a 20% chance that Mirabelli is catching. But when do I always seem to get tickets? That's right, when Mirabelli is catching. Bloody hell. Don't get me wrong, I love the Dougie. But there is a special place in my heart for the Tek. And I hardly ever get to see him live. Well here I come, Captain, hope you're ready for me. Heather, whose mental state and ulcer-free stomach I've completely destroyed by getting her addicted to the Sox, with be accompanying me. Be ready, boys, us girls want a win. And we ain't messin' around.
And so concludes my week of nomadic sports attendance. Sports witnessed: 4. States traversed: 3. Beers consumed: Countless. Different companions: 6 plus whoever shows up at Amy's party. You're all invited. I'll try to post updates at least once a day but I might slack a bit. I've also got some work to do. Lest you think I'd finally just chucked my job and starting following random sports teams around, groupie style. Not today. Maybe tomorrow. It all begins tonight. I best stay hydrated. I think I'm up for it. Bring it on!