Heaven is a Ballpark in the Sun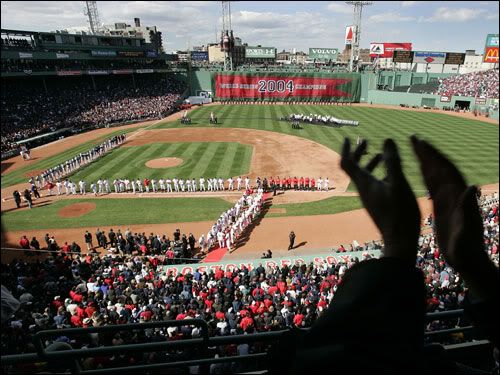 (this picture and all others in this post from Boston.com)
That. Was. Spectacular.
If I had personally been in charge of planning yesterday's Opening Day festivities, it would have gone something like that. Right down to the giant "World Series 2004 Champions" banner unfurled over the Green Monster, the day was picture perfect.
It was everything I wanted and more. There was respect paid to the ultimate baseball lifer in Johnny Pesky. There was a proper goodbye for postseason hero Derek Lowe. There was thunderous applause for stalwart Tim Wakefield. There was recognition of all that Jason Varitek has done and continues to do for this team. There were cheers for Terry as we saw with our own eyes that he's okay. Ditto Tedy. There was a sweeping, grand recognition, when Tedy, Big Sey, Bill Russell and Bobby Orr emerged from underneath the giant American flag to throw out the ceremonial first pitches that Boston, and, in a greater sense, New England, is a miraculously blessed region. Not just for our long history of sports championships (say what you want about the Sox nearly century long drought but Boston as a whole has not hungered for championships), but as a region that all cares and loves and hopes and breathes and lives and dies by the same things. And it all came together in one shining moment on the emerald Fenway lawn. It was perfect.
I have spent the better part of the last 24 hours alternatively squealing, "Dave Roberts!" and shivering, seemingly without provocation. Kudos to NESN for showing every second of it to us. I watched the ceremony and the game in a bar across the street from my office and normally I would say that the bartender would have been concerned by my squealing and applause but he was clapping and laughing right along. Because he got it. Everyone gets it. That's what Red Sox Nation is all about. Millions of hearts beating to the same rhythm.
When something magical happens, those hearts beat faster. They beat with joy when Johnny Pesky, a symbol of the Red Sox if ever there was one, receives his long-yearned for ring and makes his way down the line of current players with a hug and a comment for each one of them. The hearts leap when Pesky embraces relief pitcher Curtis Leskanic and says, "Leskanic, you son of a bitch!"
The hearts jump for joy when Dave Roberts emerges from the Sox dugout, smiling like only he can – and NO ONE smiles quite like Dave Roberts – and receives his ring.
The hearts leap when David Ortiz bounds out of the dugout and envelopes everyone in sight, everyone in the world, it seems, in a giant bear hug. This is when I turned to my co-worker who was watching with me and said, "I don't want to remember what life was like before David Ortiz came into it."
The hearts sing when the Yankees are introduced and the entire Fenway crowd, riled up from lustily booing everyone from the Yankee bat boy to Muppet Boy himself, stands as one and cheers Yankee closer Mariano Rivera. And the hearts soften just a tad when Rivera, obviously with an appreciation of irony, smiles and doffs his cap.
And when Tedy Bruschi, Richard Seymour, Bill Russell and Bobby Orr threw out the first pitches and were embraced by Curt Schilling, Terry Francona and Jason Varitek, well, the hearts, they were full.
The game? Oh, that was a gem as well. Wakefield, who has owned the Yankees in the past, did so again, allowing only one unearned run on a scattered six hits through seven innings. Bullpen Boyfriend Matt Mantei showed up as advertised and Keith Foulke seemed to have straightened out the problems that gave me severe agita last week. And the bats, they were on. Staring with Doug E. Fresh's bomb into the Monster seats. Moose hunting indeed.
There was irony when A-Rod misplayed a grounder, a bobble that eventually led to three unearned runs and the Fenway Faithful chanted, "Thank you, A-Rod!" He must really, really hate us right now.
There was humor when the very same A-Rod opened his mouth so wide while waiting in the on-deck circle during a Jeter at-bat that his gum fell out. He caught it, looked around for a moment and popped it back into his mouth. It was a small moment but it made me laugh hysterically.
There were warm fuzzies when Dave Roberts was interviewed between innings and I decided that I want Dave Roberts to be my Pip (tm Amy), like my own personal cheerleader because he is awesome. I want him to come back and never, ever leave.
Even Ben Affleck was well-behaved.
At the end of it all, there was a win, which was the perfect ending to this perfect, perfect day.
Apologies for the treacly nature of this post but it's very hard to be impartial when you're in love.