Revisionist History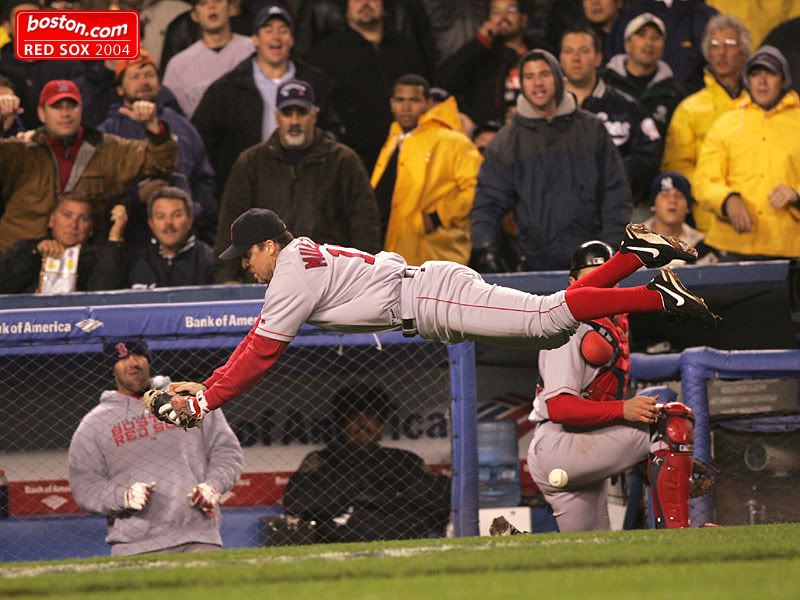 Oh baby don't it feel like heaven right now
Don't it feel like somethin' from a dream
Yeah I've never known nothing quite like this
Don't it feel like tonight might never be again
We know better than to try and pretend
Baby no one could have ever told me 'bout this

The waiting is the hardest part
Every day you see one more card
You take it on faith, you take it to the heart
The waiting is the hardest part - Tom Petty
53 days. That's how long we have to wait for the World Champion Boston Red Sox to take the field and begin defense of their title. Because Major League Baseball loves drama more than Jose Canseco loves attention, the season kicks off with the Sox and, who else? the Yankees going at it on Sunday night. Eight days later, the teams square off on Opening Day at Fenway where the Sox will receive their rings, raise the championship banner and, if tradition holds, the Super Bowl Champion Patriots will emerge from underneath a giant American flag draping the Green Monster, hoisting their newly acquired Lombardi trophy like hunters returning from a kill and proceed to throw a few truly terrifying "first pitches" to Sox players lined up behind home plate. Maybe they'll even be some "Neener, neener" one-upmanship on the part of the players towards the Yankees dugout. I, for one, would pay good money to see Jason Varitek call a time-out during A-Rod's first at-bat, say, "Hang on, I need a second," take off his catcher's mitt, remove his World Series ring, hand it to the bat boy and say, "Okay. Thing gets in the way of my game," before getting back into his crouch. Good money, I tell you. Unless Varitek has undergone a partial lobotomy in the off-season, it won't happen. But a girl can dream.

In the meantime, what's that very same girl to do until then? Admittedly, the off-season has passed more quickly this year – or at least appeared to. For one, there was the whole Patriots thing. Being equal parts Sox and Pats fan, I've been able to find many things to occupy my time and otherwise expend my energy on. NFL playoffs are the one time of year when I'm not stressing in some way over the Sox starting rotation. I reserve that time for coronaries about Richard Seymour's knee and freaking out over the status of Corey Dillon's groin and Ty Law's foot. But even still, football only happens once a week. Between the championship games and the Super Bowl, ice ages come and go, children are born, grow up, grow old and die and large redwoods mature from saplings in that ridiculous and unnecessary two week span. Long about the ninth day, newspapers have fully exhausted their stable of player profiles and "legitimate" stories and have resorted instead to publishing useless trivia like "Teams with animal mascots have a better winning percentage that teams with people as mascots." Because wha? Times like that I become extremely grateful for the fact that baseball happens every day.


I should, however, thank the lovely folks at NESN for making these past few weeks a bit more bearable with their World Series Winter. Admittedly, I did not watch much of the 1975 or 1986 World Series, just an inning or two here and there. But that was enough. I got my baseball fix while simultaneously ignoring the umpteenth interview with T.O. And since the Super Bowl ended on Sunday night, NESN has thoughtfully provided us with games 5, 6 and tonight, 7 of the 2004 ALCS. The euphoria keeps right on going. Next week, the World Series against the Cardinals will be re-broadcast. Despite their stubborn addiction to Charlie Moore, I want to give the entirety of NESN a giant thank you hug.


I had thought I would be able to watch these games in a relaxed manner, knowing how they end and all. But I guess old habits die hard. Watching Game 6 last night, I stepped outside of myself for a second and realized that I was gripping my beer bottle with white knuckles and I was, literally, on the edge of my seat. McCarver's comments made me just as angry this time around. Although, if we're being honest, I didn't hear the "A walk is as good as a home run" thing live during the original broadcast because the immense pressure of the situation had forced me to vacate my house, get in my car, refuse to turn the radio on and drive around the block six times before I called my friend
Heather
and demanded that she give me a play by play. She left out some of McCarver's more asinine observations. But I remembered her commentary and so, as I watched last night, I mentally transposed her words onto McCarver and Buck's.
A sampling:
Heather: The ugly Godzilla walked.
Me: Fuck.
----------

Heather: Creaky Knees is up. Whiffed.
Me: Awesome.
----------
Heather: Hot Lips has two strikes on Rat Boy.
Me: Okay, okay, okay.
Heather: Got him.
Me: Ha! I hate you, Posada and I hope you die.
----------
Heather: Hot Lips is throwing balls.
Me: Shit. I'm home now. I have to see this massacre for myself.
But then the massacre didn't happen. I saw Tony Clark strike out – after working a 3-2 count naturally – through my storm door as I stood in the driveway by the garbage can, stomping my feet up and down. Yeah, I'm clearly insane. I ran back into the house and saw the cameras catch Foulke (or Hot Lips, per Heather) say to a teammate, "Had to make it interesting." I remember screaming, "For crissakes, Keith, we didn't bring you here to make it interesting!" I watched the Yankees slink out of their dugout and into the clubhouse, looks of, what was that? fear? betraying their otherwise stoic faces. I called my Dad.
Dad: How 'bout that, huh? Nice pitching by Foulke.
Me: Jesus, that guy gives me a heart attack! I don't know what I've done to wrong him but evidently, he hates me personally.
Dad: That was a hell of a game. How about Schilling?
Me: Dad, the Yankees don't lose games like this. The Red Sox don't win games like this. Maybe, this year, they'll-
Dad: Kristen, what did you learn last year?
Me: I know, I know but I mean, this just seems different, somehow, like maybe this time-
Dad: Kristen! You're doing it again. You're letting them do it to you again.
Me: Okay, okay, I'm just saying.
For one of the first times ever, my dad was wrong.
I'm looking forward to Game 7 tonight perhaps more than any of the others. Though I spent the majority of the game rocking back and forth like Terry Francona on a bar stool in Jamaica Plain and scaring the shit out of my friends who honestly must have thought I'd lost my ever-loving mind, Game 7 was fun. A coronation, if you will. We'd already won, at least the moral victory and Game 7 was redemption for D-Lowe, reinvigoration for Damon, continued "so there!" for Bellhorn and neverending dominance by Papi. It was a collective smackdown from the Sox and a definitive vindication. Some hiccups, of course – the fuck is Pedro in the game? – but in retrospect, the Sox were not going to lose that game, no way, no how. They were going to win, and win definitively, and spill champagne on the "sacred" Yankee Stadium ground. Tim Wakefield was going to cry tears of joy and wash away last years' tears of sadness in the same place his worst nightmare had become reality. The Sox were going to thumb their collective noses at Babe Ruth and all the bronze statues in Monument Park, refusing to give history any weight. This was their game. This was their time and they weren't going out like that. I can't wait to relive it. Hopefully without the rocking back and forth and the dry heaves.
And so, until this long, long, long wait for Opening Day is over, I present a list of some of the things I will miss from this football season:
53 days and counting…