Like Father, Like Son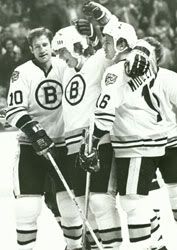 Ray Bourque (center) celebrates his first NHL goal.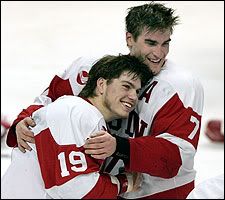 Chris Bourque (19) celebrates his overtime game winner in the Beanpot.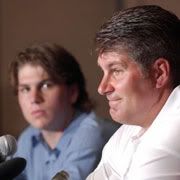 "He'd say, 'I'm gonna be like you, dad. You know I'm gonna be like you.'" – Harry Chapin

It sounds strangely familiar. "Bourque, with a shot in overtime, won the game and took home the MVP." We've heard this before 'round these parts. Seemingly more than once. After all, this is Boston. Ray Bourque belongs to us. Sure, he won his Stanley Cup in Colorado but when all is said and done, the man from Montreal who began his playing career at age 18 is a Bostonian through and through. For 18 seasons, we got used to his heroics and his steady play on the ice. He did the black and gold proud. He was our guy. He played to make his fans and his family proud. Number 77 will forever be remembered in this town and the phrase, "Bourque named MVP" will forever resonate. It was uttered again last night. Except this time, the player wore number 19. This time it was the son who did his father proud.

Chris Bourque is nineteen years old. He's a freshman at Boston University and plays forward for the Terriers. Last night, his heads-up shot in overtime won the Beanpot for Boston University for the 26th time in history. His dad never did that.

"Scoring the overtime winner was like my dad in the '96 All-Star Game when he won the MVP," [Chris] Bourque said. "I guess it was fun."

History is full of sons who've tried to live up to their fathers' legacies. John, Sean and Julian Lennon, Martin and Charlie Sheen and even George H.W. Bush and George W. Bush. But perhaps nowhere is this more evident than in the world of athletics. Bobby and Barry Bonds, Bob and Brian Griese, Bobby and Brett Hull, and Dale Earnhardt Sr. and Jr. Now you can add Ray and Chris Bourque to that list.

To make your dad proud is difficult enough. We all strive to do it, whether we admit it to ourselves or not. There are plenty of children who have followed in their father's footsteps and attempted to accomplish something similar to their dads. But what if what your dad accomplished was to be one of the greatest of all time? If you join the family business, so to speak, what do you build on? How do you make your dad proud?

If you're Chris Bourque, being named MVP in the 2005 Beanpot tournament is a good way to start. But in truth, it began much earlier than that. The younger Bourque was a standout player at Cushing Academy in Ashburnham, Massachusetts before enrolling at Boston University. He was drafted in the 2nd round (33rd overall) of the 2004 NHL draft by the Washington Capitals. For comparisons sake, his dad was drafted in the first round, (8th overall) by the Bruins in the 1979 draft. Were the NHL playing right now, we might well see another Bourque patrolling pro ice. At present, college hockey is all we've got, and the Beanpot is just about as good as it gets. We should consider ourselves lucky that we've got another Bourque to watch as well.
Last night after the game, a reporter interviewed Bourque on the ice. "Put a Bourque in Boston and something good happens, huh?" the reporter asked. For a split second, a cloud crossed Bourque's face. You'd miss it if you weren't looking closely but it was there. A cloud that said, "Can you please stop asking me about my dad?" But then it was gone. "Yeah," Bourque said, "I guess so."

He knows how this works. He understands that if you are the son of arguably the best defensemen ever to play professional hockey (with apologies to Bobby Orr), and you choose to make your career in hockey as well, you have some mighty big skates to fill. True, Chris is a forward while Ray played defense but that is merely semantics to a national sports media hungry for another father/son story. No one wants to say complimentary things about Barry Bonds anymore, Brian Griese is nothing to write home about and the Earnhardt thing is largely played out. We need fresh blood. Bourque is it. I hope he's up for the challenge.

Personally, I grew up watching Ray Bourque play. He was and most likely always will be my favorite hockey player. My brother, an athlete and also a defenseman, idolized him. He learned much of what he knows about the game of hockey from watching Ray Bourque play. Everything from sportsmanship to speed skating techniques to the way he tapes his stick has some Bourque in it. He couldn't have a better role model.

I don't know if Chris understands that he's inheriting that too. When his father lost three teeth to a high stick during his last season in Colorado and he wouldn't let the media film him before he got them fixed because he didn't want to glamorize the violence of hockey, he passed that along to his son as well. When he spoke to my then nine-year-old brother who had waited in line for three hours for an autograph and made sure to address him by name, he passed that along to his son as well.

It would be one thing if Ray Bourque had been an average player or a goon or a flashy, talented pretty boy. But he wasn't. He was the consummate sportsman, a 5-time Norris Trophy (top defenseman) winner, 19 time All-Star and a Stanley Cup winner (2001). He served as the quiet and stoic captain of the Bruins and then the Avalanche for a combined 21 seasons and grinded it out, day in and day out on the ice. Bourque was not blessed with the natural talent of a Gretzky or a Lindros so he worked himself twice as hard. His son has inherited that too.

I'm not saying it's going to be easy. But Chris Bourque has the fortune of being the son of an athlete who meant so much to a city and a region. He has a lot to live up to. I don't know if he'll do it. I don't know if he'll accept the challenge. I don't know if he'll continue the Bourque family legacy. But there is one thing I do know, he's already made his dad proud.