Poetry in Motion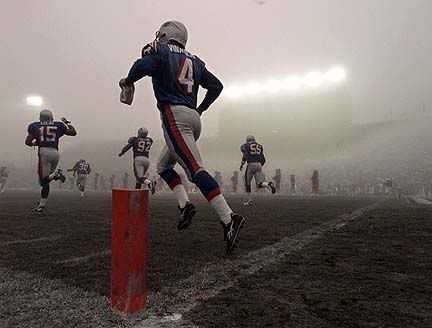 A good read.

"Without sports, 17.3 million New Englanders wouldn't worship one man's foot." - ESPN advertisement

That ad was published in the Boston Sunday Globe following the Patriots' win over the Carolina Panthers in Super Bowl XXXVIII. A year later, it's no less true.

Since the Patriots are evidently incapable of winning Super Bowls by more than three points, we have Adam Vinatieri to thank yet again. Somehow you knew that was going to happen. Shortly before this year's Super Bowl, I was watching the NFL Films DVD of last year's contest and during the Media Day interviews, someone asked Vinatieri what he thought of Carolina. He replied, "They're a tough team. They're going to give us a run for our money. Who knows, maybe it'll come down to a kicker in the end." How very prophetic.

At this point, it's getting to be old hat. Pats get to the Super Bowl. Smashmouth football ensues for the better part of four hours. Vinatieri lines up to drill one through the uprights. Patriots win by three and are the team left standing and hoisting the Lombardi trophy at the end. Yawn. (Sense the sarcasm, people, before you start sending me hate emails accusing me of being another apathetic Patriots fan. This is not getting old. At all.)

And it's not just the Super Bowl winning kicks. Vinatieri is the very definition of clutch. Mike Vanderjagt (or "Vanderjerk" per Rodney "No respect!" Harrison) can mouth off and call himself "money" all he wants but when the money's truly on the table, guess who bangs it through every damn time? I'll give you a hint: he shares a family tree with Evel Knievel.

And he never talks about it. Ever. Perhaps the greatest sign of respect is the way his teammates treat him. Kickers are not, shall we say, thought of as the most athletic guys on the football field. How can they be when 45-year-old Gary Anderson - he of the single bar face mask - is still lining up to kick 'em right down Main Street for the Titans? It's pretty safe to say that kickers aren't usually expected to make tackles, force turnovers, create plays or do anything other than kick. In a locker room full of guys who get pounded into lunchmeat every Sunday (and do their fair share of pounding), the kicker is usually the one left unscathed. He's relatively protected when he goes out there to do his job and no one expects anything more. So when a linebacker like Tedy Bruschi calls his kicker, "Tough, a real football player," that is no small compliment. Clearly the team views Vinatieri as one of them. When Vanderjagt claimed that the Patriots were "ripe for the picking" prior to the AFC Divisional playoff game, Bruschi, when asked for a comment said, "You want me to comment on what a

kicker

said?" It wasn't said, but you could almost imply that Bruschi then turned to Vinatieri and said, "Not you, dude. You're one of us."

That's the thing about kickers. Usually people only notice them when they don't do their job. (See also: Doug Brien). Most people don't pay attention when they do what they're supposed to. But then, most kickers don't possess quite the flair for the dramatic or the ice cold accuracy that Vinatieri does. Most kickers haven't consistently been put in such high pressure situations that would make a normal human being wet themselves with nerves. Most kickers haven't been responsible for the 3-point margin of victory not once, not twice, but three times in their team's Super Bowl runs. Actually, make that no kickers. None but Vinatieri.

Take a gander at these stats from the Patriots.com web page, will you. Keep in mind this is pre-2004.
Vinatieri has earned the reputation as one of the most clutch kickers in the history of pro football. His impressive playoff resume includes two game-winning field goals in the Super Bowl, two game-winners in the divisional playoff round and a record-tying five field goals in the 2003 AFC Championship Game.

Vinatieri ranks as the most accurate kicker in franchise history.

Vinatieri is the Patriots all-time leader in field goals with 212.


Vinatieri has kicked 17 field goals in the final minute of the fourth quarter or in overtime to give his team the victory, with his last seven regular-season game-winners coming in overtime.

Vinatieri scored 27 points during the 2003 postseason and is the top Patriots scorer in postseason annals with 81 points.

Vinatieri was successful on 90 percent of his field goals in 2002 (27-of-30), the highest percentage in the NFL and the highest single-season percentage in Patriots history.

Vinatieri boomed a franchise-long 57-yard field goal at Chicago (11/10/02).



Oh, and about that "athlete" thing?

Vinatieri caught Dallas' Herschel Walker from behind and made a touchdown-saving tackle as a rookie at Dallas (12/15/96).
Elsewhere in this football crazed country of ours, kickers don't really get their due. Sure, Vanderjagt is good but even Peyton Manning, his own quarterback has called him an "idiot kicker" on occasion. There's always David Akers in Philadelphia, Morton Andersen in Minnesota, John Kasay in Carolina or Sebastian Janikowski in Oakland but not a one of them has the clutch presence of Vinatieri. Not one of them has delivered three Super Bowls with his right foot. Not one of them is worshipped by 17.3 million fans.

Vinatieri misses on occasion. He's not perfect. But he's as close to perfect as we need him to be. He quite simply makes the ones that matter. In last year's Super Bowl, he uncharacteristically missed a field goal and had an extra point blocked. But when he lined up for what would be the 41-yard game winner with nine seconds remaining on the clock, he never flinched and delivered a second Lombardi trophy to New England. He missed a 41-yarder in the Pro Bowl last night and shook it off, shrugging as if to say, "Dude, it's the Pro Bowl. We're already winning." Personally I think that since it was a picture perfect day in Hawaii and not a driving snowstorm in Foxboro and the hearts of New England weren't riding on the three points, he felt it wasn't nearly enough of a challenge. That, my friends, is a money kicker.

He won the kicking portion of the Pro Bowl's skills competition too, facing off against Philadelphia's David Akers and prompting Akers to ask, "Can I have

one

of your rings?" Vinatieri replied, deadpan, "No." (Read Sam's more in depth analysis of the adorable kickers convention here). The man is

that

good, people.

Did I mention he's also an unrestricted free agent? The man who has become as much of a New England sports icon as any other is facing potential re-employment. I know we've learned not to be sentimental around these parts when it relates to the Patriots. Postmortems on Lawyer Milloy, Drew Bledsoe, Ted Washington, Damien Woody and Antowain Smith have taught us to trust in the Patriots' decision makers. But when it comes to Vinatieri, I have two words for Pioli, Belichick and ultimately, Bob Kraft: Blank. Check.