Good Boys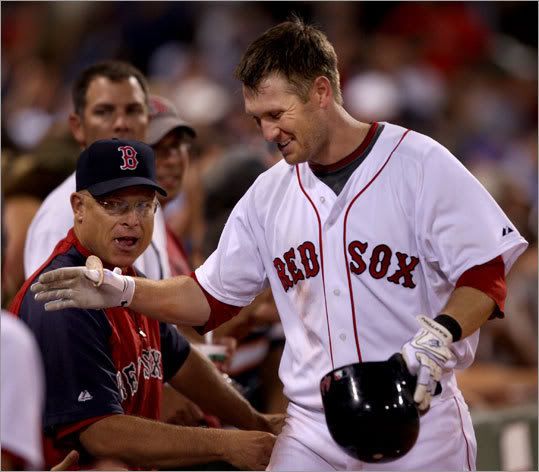 (Photo from Boston.com)
Was that all they needed, you think? Some tough love? Because I could do that all day, every day if that's what's required. Last night's game was a welcome respite in what had become a disconcertingly long losing streak and all of a sudden, I saw flashes of the baseball team that, on occasion, has made me happy, instead of inspiring me to reach for the vodka.
Timely hitting, good-turned-adequate pitching and an ability to recover when things didn't go their way. Now
that's
my baseball team. Not this sloppy band of miscreants and ragamuffins who just dropped four straight in the Bronx. It's so much more fun for all of us when people are hitting home runs and pitching out of jams then when they're masquerading as the Durham Bulls and discussing how candlesticks always make a nice gift. Though really, if the losing streak had gone any longer, it's entirely possible my NESN columns for the remainder of the season would have verged into similar territory as I discussed what to get the General Manager who has everything (a nice patio barbecue set, clearly), and whether or not we think Jason Varitek has spent more time on the phone with Doug Mirabelli lately, brushing up on his real estate facts as the trade for Victor Martinez has made him a might nervous.
I'm sure Dougie's giving him some excellent tips. Like how a pocket square really adds a professional touch to any business meeting.
Of course, tonight the Sox throw wee, young Tazawa into the mix as this evening's starting pitcher. As if shoving him onto the mound at Yankee Stadium during the 15th inning of a do or die game in his
first game
in the majors, only so he could give up the walkoff home run to Alex Rodriguez weren't psychologically damaging enough, they're going to see if they can finish the job tonight. Perhaps none of us will be happy until he tears at his uniform, does barrel rolls around the infield and runs screaming into the door in the Green Monster. Wouldn't be the first time. Baptism by fire, indeed.
But maybe he'll surprise us all. Here's hoping. That's the thing about baseball, right? Hope marches endlessly - and often foolishly - on.