Couldn't have (almost) happened to a nicer guy...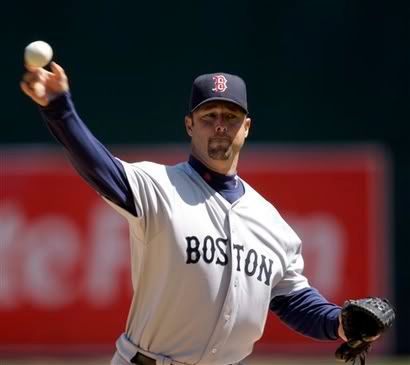 (Photo from Yahoo! Sports)
Well, at least Tim Wakefield won't have to worry about waking up in a cold sweat, years from now, repeating the mantra "Shouldn't have shaken off 'Tek. You never shake off 'Tek." At least there's that. And Young George Kottaras, who took one off the tender bits earlier in the game, wouldn't be completely out of line if he did a little strutting around the clubhouse this afternoon. You know, provided he's physically able.
It's always an issue with no-hitters, how long the pitcher's teammates make them wait before they give them another shot at the mound and a chance to resume the business of sitting people down as fast as they come up. And when the Sox exploded for five runs in the eigth, I did wonder if maybe Wakefield had been sitting for too long. But he
is
Tim Wakefield, after all. He's the same guy who's been pitching on this team since 1995 and who can, if he's on, give you millions of pitches a night. You know,

if

he's on. Though, being a knuckleballer, there's less science to that than one might expect. Point being, the wait might not have mattered in the slightest. Though I am fairly sure he didn't mind those additional five runs.
It was a good sign all around, really, since aside from Kevin Youkilis and his Milk Dud head (TM Kevin Millar), the team wasn't hitting it's shoe size lately. The JD Drew bobblehead, you'll be happy to know, is now allowed to face front. For the time being.
Of course, it all goes back to your starting pitcher, and with Matsuzaka going on the DL after last night's disastrous start (the things you miss when you refuse to endure sleep deprivation for April West coast games), our pitching is beginning to look more and more worrisome. Perhaps karma is going to bite me in the ass for laughing about Nick Swisher's stint on the mound for the Yankees a couple of days ago. Things keep going like this, we might have Nick Green pitching in about a week.
Speaking of Green, it's been two games with him as our full time shortstop and it might take another few before I stop asking, every time he's up "Who the hell are you?" Besides someone who's evidently been spending some time perfecting the "taller Wes Welker" look, of course. That said, Green did make the play that, but for a knuckleball that didn't knuckle, would have been referred to as
THE
play that sealed Wakefield's no-no. You know there's always one.
It's really quite a shame though, when you think about it. Wakefield, by far the longest tenured member of this Red Sox team has seen five managers and countless players come and go. He's lived through the Manny Era, the Nomar Nonsense and the Curt Schilling as Closer Experience. And Grady Little. After the disastrous and heartbreaking ending to the 2003 playoffs, Wakefield walked off the Yankee Stadium mound a loser, having served up the game-winning home run ball to the infamous Aaron Boone. One year later, Wakefield vanquished those same demons on that same mound. Also, he's never snapped and threatened a drunk Doug Mirabelli with Indian burns or stuffed Dustin Pedroia in his locker...that we know of, such restraint clearly demonstrating the patience and long-suffering nature of some kind of latter day baseball saint. Also, the kids seem to like him and no one has yet to discover any human heads in his freezer (it's always the quiet ones) despite the fact that, save today, the Sox often steadfastly refuse to score runs for him.
These reasons, all of them, are why it would have been especially sweet to see Wake get his no-hitter today. But, being the team-first guy he's always shown himself to be, I'm sure he'll tell us he'll settle for a win and for - hopefully - getting the team back on track. That Wakefield, what a guy, huh?
What I wouldn't give to hear Doug Mirabelli's inevitable voicemail message to him though...