Manny Ramirez: Bad Man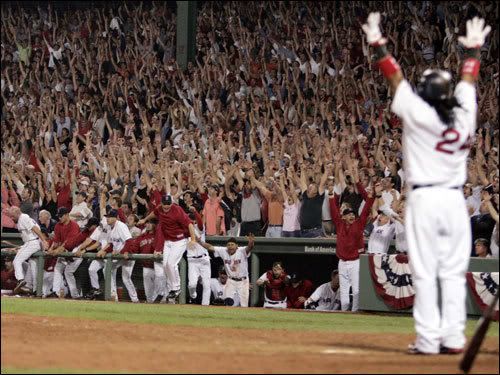 (Photo from Boston.com)
Apparently, in the parlance of a one Mr. Manuel Aristides Ramirez, "
When you don't feel good and you still get hits, that's how you know you're a bad man."
Safe to say Manny is the aforementioned bad man in this case. Or, to use a more familiar term: Manny being Papi.
Swarms of locusts descend on the Yankees and Manny hits one to the moon and back? Must be playoff baseball.
Those of us watching the game together tonight began theorizing whether or not Anaheim would intentionally walk in the winning run in the bottom of the ninth just so they could have a chance at pitching to JD Drew who could, I don't know, retroactively ground into a double play or something, thereby erasing the previous run and sending the world spinning off its axis. (And yes, I realize that Drew got the first two RBIs of the evening and picking on him is a bit unwarranted at the moment, but old habits die hard). But clearly, Manny just wanted to take care of things himself. Evidently, that was his first walk-off in a Sox uniform which seems preposterous considering that he remains Manny freakin' Ramirez. But hey, no time like the present.
Especially encouraging to see the team battle this one out after a less than stellar performance from Matsuzaka.
And then there was the whole Yankee losing thing too which was positively delightful. I know the Sox and Yankees aren't in direct competition at the moment but it's impossible to ignore what's going on in that series. There are those old habits again. Plus, with biblical plagues descending on Jacobs Field and the entire Yankee infield spraying each other with
Driven
, er, excuse me, bug spray, I wouldn't be surprised if the Yankees lodge a complaint with Major League Baseball about "unsafe working conditions" or some such nonsense. Apparently Ohio mosquitoes are quite attracted to the scent of "sandlewood and grapefruit" with just a touch of True Yankee. Though there was also a recurring theme this evening that the swarms of bugs were due to the freshly killed game that Trotter had no doubt buried under the bases and the pitcher's mound. Doesn't sound so crazy now, does it?
I knew there was a reason for why I inexplicably decided to love Travis Hafner a few weeks ago. I love it when these things pan out.
Off day tomorrow and then we're back at it on Sunday with Big Schill, Mr. Postseason Big Britches on the hill in Anaheim. It's ours for the taking. See you then.