Red Sox Catcher Blood Feud Update: The Conclusion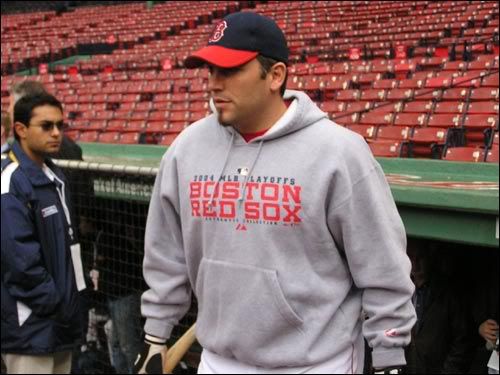 vs.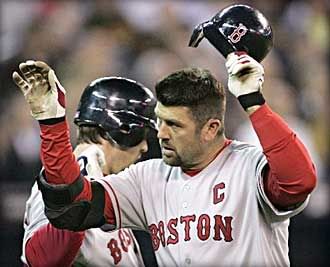 For those of you wondering how it all shakes out, the bets went thusly:
My brother was rewarded a 6-pack for every Doug Mirabelli double, a 12-pack for every triple and a case of his choosing for every inside-the-park home run (additionally, The Rick would have to eat his golf shirt). A late season addendum was added to reward an additional 6-pack for every successful stolen base (once it was discovered that Dougie, apparently, had wheels).
On the flip side, yours truly supported the Captain and was promised a 6-pack for every runner Varitek successfully threw out and a case of my choosing if Tek ended the season batting above .300.
The breakdowns are as follows:
Dougie:

7 doubles (42 beers), 0 triples (0 beers), 0 inside-the-park home runs (0 beers which I would have glady ponied up had it meant watching my dad injest an entire poly-cotton blend shirt), and 2 stolen bases (12 beers) for a grand total of 54 beers.
Tek:

21 runners thrown out attempting to steal (126 beers) and, thanks to a late season freefall, he did not finish the season anywhere in the vicinity of .300 (0 beers), for a total of 126 beers.
Ding, ding, ding! I think we have a winner.
*blows on fingers*
*buffs fingernails to a shine on Varitek jersey*
*calls brother to gloat*
Thank you all for playing along. But rest assured, the Blood Feud is not over. Not bloody likely since after Dougie pinch hit for Tek in Sunday's game and promptly launched a three-run shot to straightaway center, I received the following voicemail message:
"I just want to let you know that I saw my boy Doug E. Fresh take it to the hizzle. Oh, and Tek's not wearing batting gloves anymore. Wonder why that is?"
I wrote back: "Take it to the hizzle?"
And my brother, a white boy from New Hampshire responded, "Took it to the hizzle." Fo shizzle.
We're gonna need new wagers for the postseason. Suggestions?