Respect the Tek!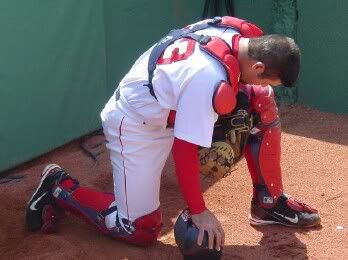 (Oh Captain! My Captain)
I realize that the Patriots are in the Super Bowl. Oh boy, do I realize it. And along those lines - wheeee! But the three feet of snow on the ground is making me wistful for summer and baseball season. So I've decided to address one of my favorite baseball-related topics. That, and we've got ten days until the Super Bowl and if I don't take a break from obsessing about the state of Richard Seymour's knee and whether or not T.O. will play, I'll never make it to next Sunday without severe heart palpitations. And so it goes...

There are many things about which I cannot be rational. I think canned parmesan cheese is evil. I strongly believe pleated pants should be outlawed. I think Starbucks is overrated and overpriced. And I believe Jason Varitek is God's gift to baseball. I argue this point constantly and I am steadfast in my opinion. But for fairness's sake, I shall try to explain.

Aside from Trot Nixon and now, Kevin Youkilis, Varitek is the closest thing we've got in Boston to a through and through Red Sox player. In 1997 Varitek came over from the Seattle organization in a trade that involved jettisoning embattled reliever Heathcliff Slocumb for what were, at the time, two promising but as yet unproven prospects. One was Derek Lowe. (Bye, D-Lowe, enjoy L.A.!). The other was Jason Varitek. You can say what you want about Dan Duquette, and many have, but that is easily, easily the best trade he made during his tenure as Red Sox general manager. It may be one of the best Red Sox trades of all time.

That said, no one knew quite what we were getting in Varitek. At the time, he was a 25-year-old minor league prospect out of Georgia Tech. He had some impressive work on his resume - Little League World Series, College World Series, Olympics, only player to have his number (33) retired by Georgia Tech - but we still weren't sure about this guy. In 1998, he played in 86 major league games, splitting time with Scott Hatteberg. In 1999, with Hatteberg plattooning, the position was all his. He played through the 2000 season as well, only missing 23 games. But it was in 2001 that his true value became clear.

Ironically, Varitek only played 51 games in 2001. On June 6th, he broke his elbow making a spectacular diving catch in foul territory against the Detroit Tigers' Shane Halter. He had surgery six days later and did not return for the remainder of the season. Catching duties were split between Hatteberg and Doug Mirabelli.

The 2001 season was an interesting and frustrating one. Nomar Garciaparra went down after only 21 games with a season ending wrist injury. Everyone said, "The season's over." But somehow, the team continued to tread water. Pedro Martinez pitched in only 18 games then went on an extended DL stint with shoulder problems. Everyone said, "Now we're screwed." But miraculously, the team held its own. Then, Varitek went down with the elbow injury. Everyone said, "Well, if we can handle losing Nomar and Pedro, we can handle losing Tek." The wheels came off.

People will point to the injuries to Nomar and Pedro and the managerial run-around with pitching coach Joe Kerrigan replacing the fired Jimy Williams as the reasons the team plummeted. Me? I think it had more to do with losing Varitek.

By his very nature, Varitek is not a noticeable player. He squats behind the plate and quietly does his business. He makes some noise with his bat but keeps his mouth shut in the locker room. He'll grant you an interview if you ask for it but he won't seek you out to make a point. He's caught two no-hitters (Hideo Nomo: April 4, 2001, Derek Lowe: August 27, 2002) but you will never hear him boasting. Since 2001, he's served as Pedro Martinez's mouthpiece when Pedro was in a snit and wasn't speaking to us or the media. He's been a clubhouse leader, an on-field captain and a team psychiatrist for the better part of his tenure in Boston. And thanks to a new contract signed on Christmas Eve this past December, he isn't going anywhere.

And yet some people don't believe he's worth it. I have this argument at least once a week:

Point: Jason Varitek is overpaid and does not deserve to be compensated with a forty million dollar contract when he's only been an All-Star once and he's not a great defensive catcher and he doesn't even catch every day.

My counterpoint: First of all, you are smoking some especially potent crack. Secondly, he is not overpaid because he is the ultimate Captain Intangibles, thirdly, the All-Star game is a popularity contest and finally, "not a great defensive catcher?" Again with the crack.

Admittedly, I have a soft spot in my heart for Varitek. I find it hard to be rational when it comes to him because there are only so many times you can hear members of the team intone "Tek is the heart and soul of the team" before you start believing it. And as far as his contract goes, he's being compensated in the same manner as Ivan Rodriguez and Jorge Posada and Varitek is just as important and instrumental to his team. In that manner, Varitek is a lot like Tom Brady. He doesn't put up the eye-popping numbers a la Pudge but he is the backbone which the team is built around. That may be even more important in baseball than it is in football simply because of the fact that players can and do demand prohibitive contracts because there is no salary cap and salaries are guaranteed. You want the money? You get the money. If not here, then somewhere else.

I do not begrudge Varitek his large contract. The Red Sox can surely afford it. I choose to believe it had more to do with wanting to give himself some security that he would remain in a Red Sox uniform for the entirety of his career than it did with him wanting the money. I know, I know, I'm being very idealistic about this. If you hire Scott Boras as your agent - which Varitek did - then you're sending a message. And that's fine. But I must also admire the fact that, when things came down to the wire, Tek did not go all hard-ass and refuse to compromise. He did, the Sox did and we've got a happy catcher, a happy team and a happy fan base for at least another four years.

That said, ten million dollars is a lot of money. And how do you justify giving that much to a catcher who has, as has been pointed out, only been an All-Star once and has been only slightly above average offensively? Here's how: If we're handing out money based on All-Star appearances, we might as well give everything we've got to the Yankees. Oh, wait, bad example. But my point remains, the All-Star game is a popularity contest. And by virtue of the fans voting for their favorite players - the players whose jerseys they wear - you're going to get your big name, big contract guys in there. Your Barry Bonds, Manny Ramirez and Derek Jeters will always be All-Stars. And more power to them. The numbers they put up certainly warrant it. Sure, other people have other favorites but they are not flashy enough to show up at the All-Star game. My brother's favorite player on the planet is Doug Mirabelli but do you think he gets himself worked into a righteous snit over Dougie's absence from the All-Star team? No, he supports Manny and Ortiz instead. Likewise, I do not think All-Star appearances should be considered when you're just not a flashy numbers kind of player, as most catchers tend not to be. You've got your exceptions, for sure, Pudge and Mike Piazza among them. But really, if we're seriously referring to Piazza as a "catcher," we've got a whole other argument.

A catcher's ability to handle a pitching staff goes largely overlooked. Strange since pitching is perhaps the greatest component necessary for a winning team. Prior to 2004, Varitek seemingly had his hands full dealing with the diva-esque Pedro Martinez, the space shot Derek Lowe, the young and often erratic Bronson Arroyo and the entire cast of bullpen characters. We've got Dougie to corral Tim Wakefield's knuckleball and I'm pretty sure there's no one on the planet more grateful for that than Varitek. Suddenly, he has to learn the patterns and manners and idiosyncrasies of closer Keith Foulke and notorious student of the game and uber-preparer, Curt Schilling. The verdict? Schilling has said that prior to coming to Boston, he never let a catcher call a game for him. Now? Varitek gets to tell the big man what he'll throw. That, my friends, is respect.

Boston has a big turnover in their pitching staff this year. Two of the five starters are gone and three new ones (David Wells, Matt Clement and Wade Miller) have been thrown into the mix. The Big Schill, Bro-yo and Wake return. Mirabelli is back as well. Of the three newbies, to a man, they have all declared the presence, or anticipated presence of Varitek as he was still unsigned as a major factor in their deciding to come to Boston. To whit: "A huge thing for me was the catching situation. When I watch catchers, I think, 'Man, I'd like to throw to this guy.' I remember saying that a lot of times about Varitek." - Matt Clement. Not only does he get the respect of his teammates but Varitek is garnering praise from his opponents, as Wells has been in the past, and even pitchers in the National League whom he's never played against, like Clement. You don't get much more well-respected than that.

When he signed his new contract on Christmas Eve, the Red Sox presented Varitek with a new jersey, bearing a red "C" over the left breast. Or the heart. Exactly where it belongs. Some people have argued that baseball teams don't need captains because they've got managers to keep everything straight and argue with the umps. Fair point. And that may be why only three teams that I can currently think of have official captains - Mike Sweeney of the Kansas City Royals, Derek Jeter of the Yankees, and now Varitek. But I think the Red Sox were making a statement by naming Varitek caption - something that he was unaware of before receiving the jersey, by the way. The team had been searching for a "face of the franchise." That's what the whole A-Rod business was about last winter. They tried to sell Nomar, but Nomar was a reluctant superstar, not particularly comfortable with the spotlight. They tried to sell Pedro, but Pedro was too uppity for some in the Boston media. And Schilling, despite his best efforts, only pitches every fifth day. So we've got Varitek. He has become the face of this franchise. And giving him that captain's jersey solidifies one thing that we've all known to be true for some time: the Boston Red Sox are Jason Varitek's team. He is their leader.

Whether it's coaxing a struggling starter through a particularly difficult pitch sequence or laying the smack down on A-Rod because he Would. Not. Take. It. Anymore., Varitek is the leader of this team. No one works harder, no one plays harder and no one respects the game more. The thing is, he's a model baseball player. Let's put it this way. If I had a child who wanted to play baseball, I'd want him or her to have Jason Varitek as a role model. Not Pedro. Not Jeter and certainly not Bonds. Varitek. He stands for everything that is great about the game of baseball. Call him a "dirt dog." Call him a "throwback." Call him "Tek." But now we've got a new one. Now, we call him "Captain."

Pitchers and catchers report in three weeks...

We now return you to your regularly scheduled Super Bowl obsessing.

(Some helpful info about captains from the swell folks at ESPN.com)