Simply the Best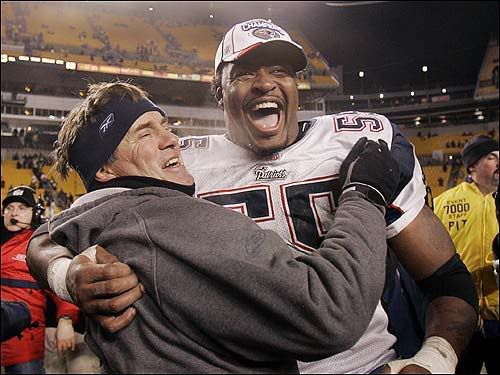 (Smiles to light up Pittsburgh)
Sports journalists and commentators of America, you know the drill, but for the uninitiated I shall provide a primer. Repeat after me: Open foot, insert mouth. Now say it: The Patriots are good. The Patriots are gerat. I will not pick against the Patriots.
Admittedly I was nervous about this game. But it was the kind of nervousness that comes with the knowledge that your coach is the Stephen Hawking of the NFL and your normally impressive quarterback morphs into Robo-QB in the big games. In fact, I'd like to propose a constitutional amendment that he be referred to as Tom "Big Game" Brady from here on out. That said, it doesn't mean that my hands weren't shaking just a wee bit. Or that I refused to move from the couch even though my feet were frozen and my bladder was nearing maximum capacity. Years of being a Red Sox fan have taught me not to mess with things if they're going well. Although I should probably remember what my father said to me last year when I mentioned not wanting to jinx the Pats. "Kristen," he said, "The Patriots are not the Red Sox." And he's right. I should have known better. Do not doubt the Patriots.

As far as the game goes, it appeared to be a constant contest of "anything you can do, I can do better" by the Patriots. Because the Pats don't exploit your weaknesses, they attack your strengths. Then they go for the jugular. You're gonna run it down our throats with heavy doses of Jerome Bettis and Duce Staley? All right then, meet Big Willie and the Teds. Oh, and as for that running game? Allow us to introduce you to Corey Dillon. I don't believe you've met before. Gonna sic the rookie on us and make history? Baby Ben, meet Eugene, Asante and Rodney. Misters Wilson, Samuel and Harrison, if you're nasty. Our QB? Just some guy named Tom. No, it's okay. Don't mention him. He's perfectly content to go about building his legacy by being, as Sean Salisbury calls him, a "silent assassin." Then again, maybe you have heard of him before. He's won a few things. Around these parts, we just call him Tommy.

All respect to the Pittsburgh Steelers, they are a very good football team and their being in the AFC Championship Game - hosting it even - was not a fluke. They deserved to be there. But this is the Patriots, man. The New England Patriots do not lose when it matters. They do not lose when pride is on the line. They do not care that you're the number one defense in the league. They do not care if your quarterback has never lost an NFL game. And they do not care if they're playing in your house. But you can be damn sure they care that you beat them almost three months ago and ended their historic winning streak at 21 games. Big mistake. Because now they want revenge. Now they're out for blood.
The Patriots know what you're afraid of. They make you face your fears. They know you want to control the clock and pound the ball with your punishing running game. They know you'd rather keep the ball and the decisions out of the hands of the suddenly shaky and possibly injured rookie QB. They know what you're scared of and they become sharks smelling blood in the water. Then they attack. Suddenly, Duce and The Bus are running into brick walls of men and Roethlisberger is forced to pass. Suddenly, your worst fears have become reality. And before you know it, you're playing catch-up against the defending World Champions. You're not built for that. Don't feel bad. No one is.
You see opposing quarterbacks looking perplexed as they're faced with a Patriots defense. Poor Ben Roethlisberger was in way over his head last night before he even stepped on the field. Yes, the rookie has been impressive but Bill Belichick does not lose to the same quarterback twice. That's a fact. You can look it up. Patriots/Colts games feature frequent shots of Peyton Manning shaking his head. I can only imagine he's trying to dislodge the computer chip that Belichick has implantedinto his brain. There seems to be no other explanation.

Here's the thing: it's not that the Patriots do win, it's how they win. Something special is going on if you hold the league's number one offense to three points one week and hang 41 points on the league's number one defense the next. I've watched this team closely for the past few years, ever since they began on this current era of dominance. Week in and week out, I've seen them dispatch teams - great teams, some of them - and even I don't know how they're doing it. But, after watching all five hours of the recently released "21" DVD chronicling their winning streak, I suspect it has something to do with heart.
Perhaps the most striking thing about the DVD were the post game locker room scenes. After every game, every game, owner Robert Kraft greeted his players with hugs as they entered the locker room. This is why it works. It starts at the top and trickles down.
This team is a family. And a family it needs to be. You do not break your arm in the Super Bowl and come back to play the next set of downs with a compound fracture as Rodney Harrison did last year if you don't think your team is a family. You do not patrol the sidelines in a motorized scooter to cheer your teammates on as the injured Ty Law did duringlast night's AFC Championship game in Pittsburgh if you don't think your team is a family. You do not play nearly an entire season with a separated shoulder and not utter a word of complaint as Tom Brady did last year if your team is not a family. These Patriots do these things. They embrace the Bruschis and the McGinests and the Vinatieris that have been there all along and they bring the Dillons and the Neals and the Millers into the mix and make them family too.
These boys want another ring. Last night after the game, a sideline reporter caught up to Corey Dillon, who, before coming to the Patriots this year had never so much as had a winning season and asked him how he felt about going to his first Super Bowl. Dillon, thousand-watt smile beaming replied, "Can you say that again?" "How does it feel to be going to your first Super Bowl?" the reporter repeated. "One more time." Dillon said. "Your first Super Bowl? How does it feel?" Dillon laughed, "It feels great, man, great." Then he ran off to embrace his teammates. That is what these men play for.

In two weeks when the Patriots face the Eagles in the Super Bowl, they will be ready. They will be hungry. Despite the fact that many of the players already have one, or sometimes two, Super Bowl rings, they will not let up. They want to win for Corey, who's never been here before. They want to win another one for Bob Kraft, to say thank you to the best owner in sports. They want one more for Tom, so he can finally getthe credit he deserves.
They don't want to talk about it but the arguments against calling the Patriots a modern-day dynasty are becoming few and far between. This is not supposed to happen in this era of salary caps and free agency. This is not supposed to happen in the time of ego and ESPN. This is not supposed to happen in this age of parity. But it's happening now. It's happening right in front of us. Bill Belichick does not lose in the playoffs. After last night's win, he is tied at 9-1 with Vince Lombardi for a playoff record. You may have heard of this Lombardi fellow. He's the trophy guy. Tom Brady is currently tied with Bart Starr at 8-0 for most consecutive playoff victories. Starr won a few games in his time. The national media and the pundits can deny it all they want, but thisPatriot team is not good. This Patriot team is great. This Patriot team will turn your own game plan against you and make you beat them. And you can't do it.

So while the team prepares for their third Super Bowl in four years, I will enjoy every minute of it. While Manning, Roethlisberger and thirty other teams are sitting at home, I will be watching and cheering my boys on. Doubt them all you want, they'll prove you wrong. Believe it.