Any Way You Want It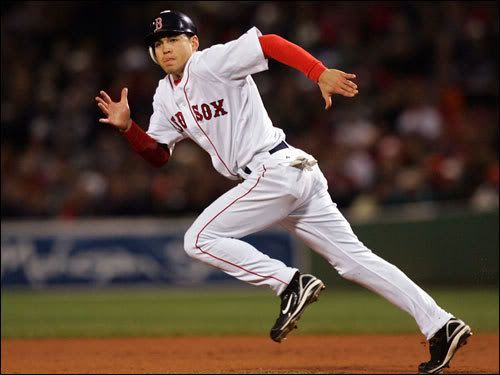 (Photo from Boston.com)
Yeah, that's right, the Journey quotes are coming fast and furious now. That can only mean good things.
Above,

Jacoby

Ellsbury

does his part to end world hunger by stealing second to ensure tacos for America! What a patriot! What a guy! Royce Clayton can get his taco now. That

Jacoby

, such a nice boy.
This one...this one was not easy. This one had that postseason feel to it. That "this could go completely to shit at any second" feel. This is something I'm used to. But Schilling did what he's capable of doing and, once he got it together after a slow start, pitched a beautiful game. Of course, the

Sox

would be nowhere this season, or this postseason, without their bullpen, Manny

Delcarmen

Bullpen Band and all.

Okajima

, in particular, has pitched more than I often think is strictly wise, but has risen to the challenge every time. And just think, this is the guy we got to keep

Matsuzaka

company.
Then there's

Papelbon

who is apparently also capable of some
impressive gymnastic moves
out there on the field should the situation require it. And I mean,
the

Papel

-parents
are completely normal-looking folks. There is virtually no indication in that picture that those people have spawned the unholy union of Nolan Ryan and Michael

Flatley

, Lord of the Dance. (Not to mention the borderline psychotic

Papel

-twins.)
Curt Schilling just referred to this lethal bullpen combination as the "

Papajima

Show."

Hmmm

, possible. We'll take that under advisement, Curtis.
Weirdly, despite the fact that the

Sox

are now up 2-0, I'm more nervous now than I was after last night's game. (Two nights ago? What day is it anyway?) Perhaps it's the whole "Okay, so the Rockies have some shutdown pitching as well" thing and the "Coors Field is a mysterious place of legend and mystery" thing but mostly, I think, it's because this game felt real. Because World Series games are supposed to be tight. They're supposed to be hotly contested. They're supposed to be pitcher's duels. And Fox and

NESN

can throw stats and numbers at me all they want (not that I'm listening to anything Fox says, especially Eric

Byrnes

because, have some pride, dude, don't let Jeannie

Zelasko

and her freaky, freaky nose taunt you like that and also comb your hair! You're on national television!), but I know how these things can turn on a dime. So I remain cautiously optimistic.
I am, however, greatly enjoying the fact that in every commercial, the dude from Jordan's Furniture looks like he's about to vomit. Since they're two

Sox

wins away from

hemorrhaging

money. Unfortunately, I won't get my furniture for free because I didn't buy it in the time frame but I'm not gonna pretend like I won't be kind of amused if this happens because I'll feel like the Red

Sox

are objecting to the fact that it took for-

freakin

'-ever for Jordan's to get me said furniture. Because the

Sox

care that my living room is inviting and aesthetically pleasing to guests, obviously.
So now, we wait a day. The Rockies are likely not stoked about having yet another day off but such is the way of things. And

NESN

is promising, "Coming up: Reaction from

Jacoby

Ellsbury

." I really hope someone has to wherewithal to ask him about Tacos for America.